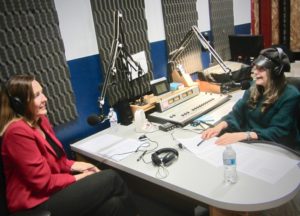 We have captured some fascinating Thomas Fire interviews from our sessions in Ojai and in Ventura as well as in some powerful in-studio sessions. We are planning several more events as the stories are plentiful, important and fascinating. The next audio recordings will take place on May 8 from 11am-3pm at the CAPS Media Center, and on May 20th from 11am-3pm at the Museum of Ventura County. Let us know if you would like to share and we can make accommodations because your story is important to us and community.
The Face of Ventura, one of KPPQ's outstanding local radio shows featured interviews with several of the victims as did the hosts of Ojai Dream who were affected by the Thomas fire as it began in Santa Paula and Upper Ojai. We have received many photos and videos from county residents and we thank you. Keep checking our website and social media for updates.
Our video and radio producers are bringing great programming to our airwaves. Currently we are broadcasting and streaming art, travel, comedy, public affairs, talk and youth programs. These programs are all produced by our members, individuals and groups who are active and engaged in our community. We are so proud of our ECTV students and their award-winning programs. Tune in and log in and catch some great shows.
Summer is fast approaching. Graduation season begins in less than a month which means the CAPS production truck and volunteers will be out in the community. Our Summer youth programs begin in June, this year with a new twist. Members are stopping by to begin new projects and fine tune their skills. Let your family, friends and co-workers know about the great opportunities to create and share stories. Our radio station, KPPQ-LP is another venue where you can create and share your passion.
Don't forget CAPS Media is hosting an Open House on Thursday, May 3 from 5-7pm. You will get a preview Thomas Fire Story and meet and greet the staff and members.
CAPS Media's mission is to create an engaged and informed community through participation in electronic media. CAPS Media manages two television channels (6 & 15) and an FM Radio channel (KPPQ 104.1FM). Membership fees are $25 per year for television and $50 per year for radio. Membership includes training and access to video and audio production and postproduction equipment. General orientation sessions are on the first Thursday of every month, cameraclas is the 2nd Thursday, editing classes are on the 3rd Thursday and radio classes are held Wednesday and Thursday of the 4th week of the month.