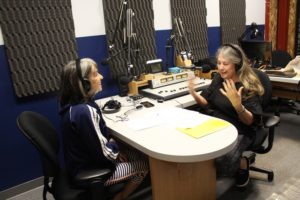 CAPS Media is hosting an Open House on Thursday, May 3 from 5-7pm. Everyone is invited to tour the television studio, KPPQ radio station and mobile production truck, celebrate member/producer awards, preview Thomas Fire Stories, enjoy refreshments, and learn more about membership, programs and future plans for CAPS Media. The center is located at 65 Day Road directly across the street from Foothill Technology High School.
The Thomas Fire Stories Project continues to discover fascinating first-person stories from members of the public, fire fighters, first responders, officials and others at recording sessions throughout the county. Selected stories will air and stream on CAPS radio (KPPQ 104.1 FM) and on CAPS Media television, stream on capsmedia.org, and may be included in the comprehensive Thomas Fire documentary. All of the recordings will be included in the historic archival project at the Museum of Ventura County.
During the past few weeks Thomas Fire audio recording sessions took place at the Ojai Valley Museum, Ojai Library, CAPS Media Center and EP Foster Library. The next recordings will take place at the Avenue Library at 606 N Ventura Avenue on Saturday April 14th from 10am-2pm, at the Ventura County Agriculture Museum at 926 Railroad Avenue in Santa Paula on Sunday April 22nd from 11am-3pm, and at the Museum of Ventura County at 100 East Main on May 20th from 11am-3pm.
Everyone with a story to tell is encouraged to participate. The informal audio sessions typically last 10-15 minutes.  CAPS Media staff and volunteers help the storytellers share their experience in their own words. The result is unscripted, unrehearsed, engaging and compelling first person stories. If you have a Thomas Fire Story to share or know someone who has a great story to tell, drop by and record the experience. Visit capsmedia.org to find a convenient day and time to record your story and add it to the museum's historic archive.
The Thomas Fire Stories Project is a collaboration with Ventura City Fire and Police, Ventura County Fire, Sheriff, and Office of Emergency Response and the Museum of Ventura County. If you have photos or video to contribute to the archive, go to capsmedia.org for instructions on how to contribute photos, video and other media. If you have a story to share, email thomasfirestories@capsmedia.org or call the CAPS Media Center at 658.0500.
CAPS Media's mission is to create an engaged and informed community through participation in electronic media. CAPS Media manages two television channels (6 & 15) and an FM Radio channel (KPPQ 104.1FM). Membership fees are $25 per year for television and $50 per year for radio. Membership includes training and access to video and audio production and postproduction equipment. General orientation sessions are on the first Thursday of every month, videography classes are on the 2nd Thursday, video editing classes are on the 3rd Thursday and radio classes are typically on Wednesday and Thursday of the 4th week of the month. All classes begin at 6pm. For more information, go to capsmedia.org or call 658-0500.