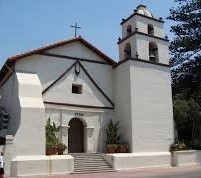 The Mitz-Khan-A-Khan Chapter of the National Society Daughters of the American Revolution (DAR)will be unveiling a 24"x 24" bronze marker of California Historical Landmark No. 310 placed on the front of Mission San Buenaventura on March 31, at 9:30 a.m. This historical marker will be visible and photographed by many visitors from around the world. The mission is located at 211 East Main St. The ceremony will be followed by a reception in the mission courtyard.
Honored guests attending include:
Adele Lancaster, DAR State Vice Regent
Patti Swayze, DAR District VII Representative
Talin Sardarbegians, Coordinator, Office of Congresswoman Julia Brownley
Mission San Buenaventura was founded on March 31, 1782, which is 236 years to the day of the upcoming ceremony of this historical landmark. San Buenaventura Mission is the ninth and last mission consecrated by Saint Junipero Serra. Named in honor of Saint Bonaventura (1221-1274: Cardinal and Doctor of the Church), it is known as the "Mission by the Sea".
The Mitz-Khan-A-Khan Chapter of the NSDAR was organized February 20, 1931, and is named for the Chumash Native American village of Mitsquanaqa'n, where the Mission San Buenaventura was founded.
The public is invited to attend this historical event. For further information please contact:
Angelee Conroy, Regent Mitz-Khan-A-Khan, Ventura Chapter California DAR, NSDAR at acflying@yahoo.com.