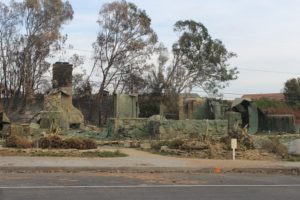 CAPS and your stories
CAPS Media is recording Thomas Fire Stories with the public, fire fighters, first responders and others who want to share their story. The extensive documentary project is a collaboration with Ventura City Fire and Police, Ventura County Fire, Sheriff, Office of Emergency Response and the Museum of Ventura County. The year-long, comprehensive project includes an ongoing series of television and radio archival interviews and recordings with first responders, individuals and families whose lives were dramatically changed the night of December 4th.
We began our first recording schedule Sunday March 11th at the Ojai Valley Museum. The stories we have heard so far were powerful and inspiring and we look forward to hearing many more. We will continue with our pop-up recording booths in libraries and museums throughout the months of March and April. The next one is scheduled for March 25th at the Ojai Library from 12pm to 4pm. The following session with be held at the CAPS Media Center on Saturday March 31st at 11am. On April 2nd at 5pm we will be at EP Foster Library and at the Avenue Library Saturday April 14th from 10am-2pm. The final two sessions will be held at the Ventura County Agriculture Museum in Santa Paula Sunday April the 22nd with the final session on May 20th at the Museum of Ventura County from 11am-3pm. If you can't make one near you, feel free to stop by any location to share your story.
If you have photos or video to contribute to the legacy, CAPS Media has set up a simple process for the public to share recordings of the Thomas Fire for the historic project. Go to the CAPS Media website homepage (capsmedia.org) and click on the Read More arrow on the lower right corner of the Thomas Fires Stories image. The page presents more details on the project and step-by-step instructions on how to contribute photos, video and other media.
If you have a story to share, send an email to thomasfirestories@capsmedia.org or call the CAPS Media Center at 658.0500.
Members, producers, technicians, hosts, dee jays and performers are what makes CAPS Media Center click. Our mission is to create an engaged and informed community through participation in electronic media. Find out more about how you can be part of this enthusiastic community by attending orientation on the first Thursday of every month. Member classes include HD videography/camera class held on the 2nd Thursday, Final Cut postproduction editing class on the 3rd Thursday, and CAPS Radio (KPPQ, FM 104.1) two-part classes this month on the 5th week. In every training session Member/Producers receive hands-on instruction in videography, video editing, radio production and more. All classes begin at 6pm at the CAPS Media Center, 65 Day Road. Trained member/producers may check out CAPS Media's video cameras, tripods, audio gear and other production equipment to record their story and then book editing suites to craft the story they want to tell. Go to capsmedia.org for information or call 658-0500.