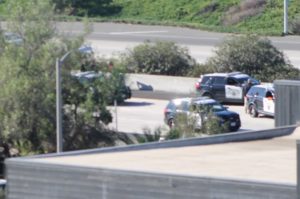 On February 21, at approximately 7:30 a .m., CHP was notified by the Los Angeles Police
Department of a possible rape suspect in the Oxnard area. The incident began when a check of a vehicle in Oxnard came back with information that the car belonged to the rape suspect, believed to be a 35-year-old man from Camarillo.
At 7:35 a.m., CHP units located the suspected vehicle, a black Nissan Versa going northbound on US 101 at Vineyard Ave. CHP units initiated an enforcement stop on this vehicle at Oxnard Blvd. The Nissan failed to yield and continued northbound on US 101.
While still driving northbound CHP Officers observed the vehicle begin to yield to the right shoulder on the US 101 and then began drifting to the left, across all lanes of traffic and came to a stop in the center median, north of Seaward Ave.
At some point during the pursuit, officers believe the suspect began to drink some sort of liquid which turned out to be poison. The Officers located the male, inside his vehicle, deceased from an apparent self-inflicted poisoning. The substance that the suspect ingested was tested by the Ventura Fire Department's Hazmat team and was determined to be a mixture of sodium chloride and potassium cyanide.
Authorities initially said shots were fired, but CHP officials now say no shots were fired.
The suspect was seen motionless outside of the vehicle before the coroner removed the body from the scene. The passenger-side glass was shattered by officers who removed the suspect from the car.
Both sides of the 101 Freeway were initially shut down from Sanjon Road to Seaward Avenue. One northbound lane and all southbound lanes were reopened a short time later. The Ventura Police Department aided in the incident.