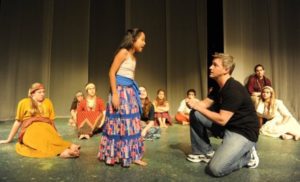 Enrollment is now open for spring acting classes at Rubicon Theatre Company for adults and children ages 5 and older. Classes will be taught by Rubicon Associate Artistic Director Brian McDonald, an award-winning professional actor and director and graduate of Boston Conservatory, whose credits include national tours and work with prestigious regional theatre companies.
McDonald heads Rubicon's Education and Outreach programs and is has directed numerous summer and main stage productions. Brian McDonald recently starred in the acclaimed one-man show Buyer & Cellar at the Rubicon Theatre.
These process-oriented programs consist of vocal, physical and mental exercises; character analysis and development; scene study; theatre games, improvisation and audition technique. Classes provide opportunities for participants to think creatively and open themselves to new ideas and modes of expression. Each class culminates with a final presentation of the students' work for family and friends.
Says McDonald, "We limit our class size in order to provide individual attention a nurturing environment where participants are able to participate and grow at their own pace."
Costs range from $180-$240. And are divided into:
Acting (Ages 5-7): March 10 – April 14, Tuition: $180.
Acting (Ages 8-12): March 10 – April 14, Tuition: $200
Acting (Ages 13-18):March 5 – April 9, Tuition: $220
Acting (Ages 19+):March 5 – April 9, Tuition: $240
To learn more about the classes and to register please visit the Education and Outreach section at www.rubicontheatre.org. Or call 667-2912 ext. 234 for assistance.