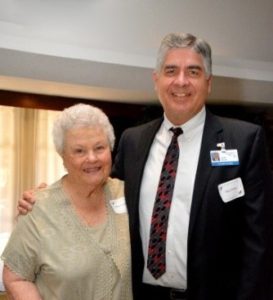 by Marilyn Beal / Auxiliary Publication's Chair
On February 2, Community Memorial Hospital's Auxiliary held their annual awards luncheon at the Four Points Sheraton Ventura Harbor Resort. The theme of the luncheon was "Volunteers Make the World a Brighter Place." Linda McNutt and her committee selected a perfect theme which was evident as volunteers received their hours and service awards.
Fifty four volunteers received "Hours Awards" ranging from 100 hours to 12,000 hours. Judy Miller's years of commitment were evident in the 22,000 hours award she received. Six volunteers received 20 year "Service Awards." Judith Eldeb has served 30 years, Pat Utter 45 years, and Genevieve Basso received an award for her 50 years of service. The world is indeed a brighter place because of the dedication shown by these volunteers.
CMH's Auxiliary not only gives of its time and talents, it also gives a yearly monetary donation to the hospital. At this year's luncheon, president Edie Marshall and treasurer Norma Nick Taylor presented a check for $90,000 to CMH's CEO, Gary Wilde to be used to help with the completion of the new hospital.
Auxiliary president, Edie Marshall stated, "I am very proud of all of our Auxiliary members. They serve the hospital in many ways and in many areas, and do so because they love helping others who need care while in the hospital. We would welcome any others who would like to join us in serving CMH as an Auxiliary member."