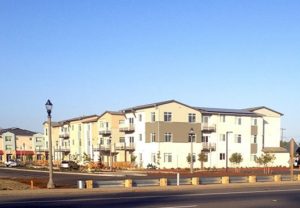 Cabrillo Economic Development Corporation has completed grading on Phase II of Snapdragon Place Apartments, and construction will begin in March.
Cabrillo is developing the project in partnership with the Housing Authority of San Buenaventura, which will serve as the property management company.
Snapdragon Place Apartments is a new construction development located at Snapdragon Street and Lost Angeles Avenue in East Ventura. Cabrillo completed Phase I of the project, which included 28 units, in 2015. Phase II will provide another 22 homes.
Phase II will consist of five two-story buildings enclosing a landscaped interior courtyard. The unit mix includes four one-bedroom homes (640 square feet), 10 two-bedroom homes (958 square feet), and eight three-bedroom homes (1,177 square feet).
The project will include 11 special needs units, of which, four one-bedroom units are designated for homeless veterans through the Veterans Affairs Supportive Housing program and seven non-VASH units. All units, except for the manager's unit will have Section 8 vouchers for families and individuals with incomes between 30 to 60 percent of the area median income.
The development will share access to the 2,000-square-foot community center completed during Phase I of the project. That space includes open space with a barbecue and a play areas.
Cabrillo Economic Development Corporation's mission is to provide comprehensive housing services and community economic development activities through a community-building approach that facilitates self-sufficiency for individuals and families who are most lacking in opportunity in Ventura and Santa Barbara counties, and adjacent areas of Los Angeles County. Incorporated in 1981, Cabrillo's early roots were in response to a farmworker community's demand for secure housing. Although this continues to be important, today there is a more widespread need for affordable housing in this region. As such, Cabrillo now provides housing for low- to moderate-income residents and families, including farmworkers, seniors, veterans and individuals with special needs.