16 year old son Corey, 14 year old daughter Page and dad Danny Castro at toy drive. Photos by Bernie Goldstein
by Karen Leslie writer with heart
In unison, the voices of children were lifted up in a giddy melody sweet and true on December 20th at the 8th annual Castro Family and Ventura Police Community Foundation Toy Drive. In an atmosphere of togetherness, heartstrings were plucked during this holiday time celebration of spirit and giving held by the Castro's.
From the moment this magical evening began, Dad Danny, son Corey and daughter Paige, knitted a warm blanket of love for friends and families of children in treatment for cancer. With the heartwarming common thread of family, they shared how the fabric of their lives changed in this inspiring story of how the foundation began.
At a young age Corey was diagnosed with a rare bone disease. As a patient in the hospital, he saw the toy box of presents at Christmas time was fairly empty. Corey and his sister Paige had the idea for a Christmas party for patients and their families. Corey asked to fill the toy box at the treatment center 9 years ago when he was 7. Even though everyday is a battle with pain and continued treatments, he pursues his personal passion with endurance and determination to see that the toy box in the Children's Center for Cancer and Blood Disease at VCMC (Ventura County Medical Center)is filled to overflowing. Corey's legacy and dream of providing wrapped gifts so the patients are able to take a toy after their treatments, chemo, blood transfusions, IV meds, scans and birthdays still rings true today.
Corey shares, "We make dreams come true as a family", Paige also shared, "It's all about providing toys for the brothers and sisters of patients, also, after the fires, the toy box was empty and one week later it was filled."
With the support of Corey's devoted dad and sister, working side by side with many of the grace givers and community outreacher's…like Ventura Police Department Civic Engagement specialist and beacon of light Ashley Bautista – energetic and heart-centered social worker Robyn Howard Anderson of the pediatric oncology clinic along with many individuals and families, gifts and stuffed animals were piled up to the rafters!
The happiness factor bubbled up as young elves piled up presents in the wide eyed little arms of each and every child while live music with Luis Villegas and trio filled everyone with Christmas cheer.
Sitting by the beautifully lit tree, listening to the wishes and dreams of children in their loving laps, dedicated 7 year volunteers , Santa Claus and Mrs. Claus watched each child's eyes dance in delight and glow in wonder and awe. They share, "A most rewarding experience."
Contributor for eight years police officer Alyse Quiroz said, "These children are in the battle of their lives and are happy to play a small role. They look forward to this every year."
Leticia Nevares, mother of five, three of her children with Von Willebrand's disease, "Appreciates the spirit of giving."
Hector Garcia, father of Angel Garcia going on 10 years in treatment says, "He is happy being a part of something bigger than himself."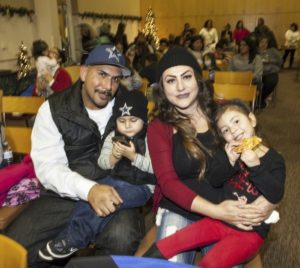 Maria and Sergio Pulido, mother and father of two holds their children close with their son Ivan, age two, recently diagnosed with Leukemia. Sergio and Maria touchingly stated, "Even though our life is on a roller coaster ride, we pray for the best and hope that families with healthy kids enjoy them every moment."
There were no tears tonight, only a hush of hope and gratitude that touched the child inside us all…the ultimate gift of love!