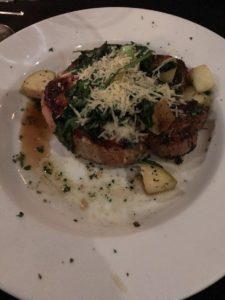 by Jennifer Tipton
Located on the corner of Oak and Main (where American Apparel used to be), Casa Bella opened her doors in June 2017.
I first visited the new establishment on July 4th when friends wanted to meet for cocktails, I was very impressed with the beautiful and spacious interior, a large open bar, and tall backed booths (for privacy) set elegantly! The Bloody Mary I ordered presented as a meal, garnished with a large prawn, olives and cocktail onions along with the usual celery stalk.
Interested to return and sample the fare, we dined with friends one Saturday evening and although it is not uncommon to have a server bring the entrée with the warning, "be careful, the plate is hot", in this case it wasn't just the plate, the food was so hot it scalded the tongue and we had to wait for it to cool before we could eat…
Recently, my husband persuaded me to "give them another chance". Seated in the separate dining area that sets behind the bar, the tables were so close together for the size of the room that I wondered how the servers could get in and out and back and forth without knocking anything or anyone over.
Our server's name was "Chelsea" and she was outstanding, Casa Bella always appears to be well staffed.
Appetizers include Chorizo Mussels with Tequila Crème, Spanish Deviled Eggs and Shrimp Avocado Rolls (these were so good, I should've skipped the entrée!). Prices range $8 to $13.
Entrées sound impressive with selections such as the Chef's Chateau, a prime center cut chateau with lump crab cake, a cilantro aioli, parmesan risotto and a tequila gorgonzola cream. Several steaks are offered, each with a unique and enticing description, but going for that "Mexico City" flavor are other choices such as Mexican Shrimp and Lobster Pasta or Mexican Chicken Cordon Bleu. Prices range $22 to $42 with the average price per plate at $39.
All entrées come with one side, choices include the Jalapeno Creamed Spinach and the Cheesy Sweet Corn and Rice. Ordered separately, prices range $8 to $12 or a large "Specialty Lobster Garlic Mashed" for $25.
I had the Porterhouse Bone-In Porkchop with sautéed apple and parmesan spinach and was allowed to substitute a salad for one of the side dish selections, I ordered the chopped salad but was brought the Bella Romaine salad which consisted of fennel, shaved parmesan, red onion, walnuts and a gorgonzola dressing … not a winning combination.
Overall; beautiful ambience, great service and although the food sounds impressive, it was just "okay", certainly not price worthy. Our bill for one appetizer, two entrées and a couple of cocktails was $150 (with tip).
There is no outdoor seating, so Casa Bella is not dog friendly and because of the location, parking is limited. There's live entertainment on Saturdays and Sundays and sometimes during the week, this we enjoyed very much as I sipped my $15 chocolate martini (a new way of doing dessert), the server forgot to charge me until I reminded her.
Total bill = $168