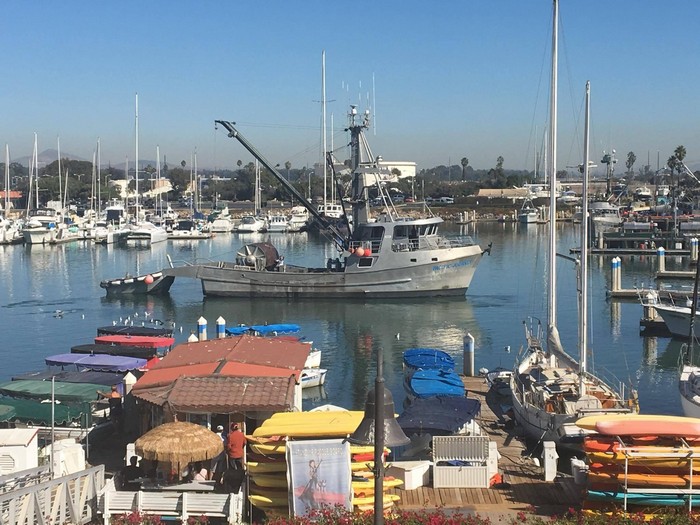 Cooler water temperatures and other favorable sea conditions have returned the Ventura Squid Fleet to the Ventura Harbor Village. In late October and early November squid landings are increasing. They are currently averaging over 500 tons per day.
All of the squid seiner* slips are occupied with some vessels even rotating in a shared slip arrangement.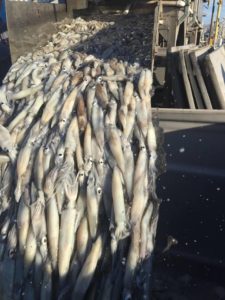 All three squid offloading companies are currently in full operation with individual seiner vessels making squid landings at the Ventura Harbor Fish Pier daily, Monday through Friday.
One vessel, Ocean Angel II, made a landing the second week of November of 100 tons of squid. At $1,000 a ton this vessel received a $100,000 payday. The Port District receives $7.99 for each ton off-loaded by the squid companies.
News of the Ocean Angel II landing has resulted in an enormous number of requests for seiner moorage in the harbor which unfortunately they cannot accommodate.
The previous three squid seasons proved largely disappointing for California with small individual vessel loads and missed quotas.
The current squid landings are re-igniting enthusiasm among the fishermen and delighting visitors to Ventura Harbor who can observe the vessels arriving into the harbor and the activity of the squid being off-loaded from the Ventura Harbor Village Promenade.
Frank Locklear
Manager, Ventura Harbor Village Marina, Commercial Fisheries and Technology
"The Ventura Harbor Village welcomes the return of squid to the area. The presence of the squid fishermen and their vessels paint a colorful maritime picture of the harbor. Please come visit the Ventura Harbor Village and enjoy all the wonderful food, activities, sights and sounds that the Ventura Harbor provides."
*Seine (/seɪn/ SAYN) fishing (or seine-haul fishing) is a method of fishing that employs a seine or dragnet. A seine is a fishing net that hangs vertically in the water with its bottom edge held down by weights and its top edge buoyed by floats. Seine nets can be deployed from the shore as a beach seine, or from a boat.Boats deploying seine nets are known as seiners.