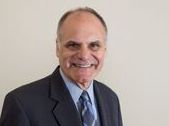 The California Assisted Living Association (CALA) is pleased to announce that Steve Spira with Cypress Place Senior Living, an Integral Senior Living community, has received the organization's prestigious Outstanding Executive Director award at their Fall Conference & Trade Show in Rancho Mirage. CALA chooses recipients of these awards based on their commitment to providing outstanding, quality care and service to residents in the communities where they work. Spira received his award on November 6.
Spira came to Cypress Place with extensive hotel food and beverage management experience. His management skills, along with his focus on improving the customer experience through service, has gained him the respect of his team and the appreciation of residents and family members. Colleen Webb, Cypress Place's business office director, says, "Through Steve's leadership and teamwork style of management, we have grown closer and have become more effective as a team, all the while staying personally connected with residents and staff alike."
Spira is skilled at hiring right-fit individuals and elevating them to positions where they can grow and maximize their talents. Residents say they feel protected, cared for, heard and understood by him. Given his accomplishments, he was promoted to Senior Executive Director, taking on responsibilities beyond his role at the community. Integral Senior Living's Divisional Vice President of Operations, Jason Engelhorn, says, "Steve is extremely organized, creative, and a great spokesperson for his fellow executive directors."
According to Spira, "When I started working with seniors I realized it was what I was supposed to be doing. It has brought such joy to my life. I get up each morning looking forward to everything about my work. Most of all I look forward to making a difference for all seniors that live at Cypress Place."
With 625 provider members and growing, CALA is the only association solely representing the state's Residential Care Facilities for the Elderly, which encompass Assisted Living, Memory Care, and Continuing Care Retirement Communities. CALA provides leadership through advocacy efforts and education to support providers in their efforts to offer the highest quality programs and services to their residents.
Cypress Place Senior Living is a premiere senior community in Ventura County. The beautiful senior living campus features an Active Senior Living community and adjacent Assisted Living and Alzheimer's/Dementia Care community connected by a lushly landscaped courtyard.
This safe, loving environment offers residents a continuum of care through life's transitions. Amenities include three meals daily, weekly housekeeping, transportation, activities, utilities, as well as personal caregivers and laundry service in the Assisted Living and Memory Care communities.
Cypress Place Senior Living is located at 1200/1220 Cypress Point Lane. To learn more about Cypress Place Senior Living of Ventura, call 650-8000 or visit their web site at www.cypressplaceseniorliving.com.