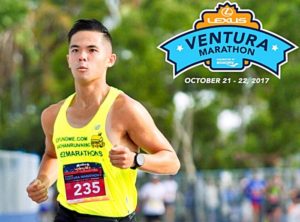 School on Wheels staff member Ian Chan is running 52 marathons in 2017 to raise awareness about homeless children. The Ventura Marathon was his 49th of the year and he came 55th out of 1008 runners with a personal best time of 3:15:18!
"Why am I running 52 marathons this year? Over 500,000 children experience homelessness in California each year; this campaign is about raising awareness and giving hope to a population all too forgotten and neglected. The hardest thing has been fitting the races into my busy year."
Catherine Meek, Executive Director of School on Wheels said, "We are so proud of Ian and his amazing achievement of running a marathon every week. We hope people will support him in his goal of raising awareness about the staggering problem of homeless children in our communities."
To help with his goals go to https://www.gofundme.com/ianchanrunning.