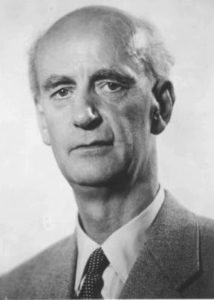 The year is 1946, Hitler has been defeated and the Third Reich has fallen. In the American Zone of occupied Berlin, Major Steve Arnold (Patrick Vest) interviews Wilhelm Furtwängler (Peter Van Norden), a conductor at the pinnacle of his career, (and Hitler's favorite conductor) in preparation for his de-Nazification tribunal. Furtwängler had become increasingly controversial when he chose to remain in Germany while many of his colleagues had fled out of protest or persecution. Did he naively believe that art was above politics? Did he allow himself to be manipulated by the Nazi propaganda machine? Or was he, in fact, a collaborator?
Taking Sides asks complicated questions about personal and artistic responsibility in the face of unspeakable horror. Furtwängler recognized that the Nazis needed him, and by many accounts often used this to effect good, flouting Nazi authority where he thought he could, helping some Jewish musicians escape, and even arguing with Josef Goebbels in the newspaper. When it became clear that Germany had lost the war, he became a Nazi target and escaped to Switzerland. But as Nazi crimes came to light during the trials at Nuremberg, and the Allied de-Nazification Tribunals took place, answers were relentlessly pursued. Where other artists who had been members of the Nazi party were allowed to quickly return to work, Furtwängler's case dragged on.
Get tickets now for this timely and riveting production that will leave you wondering who and what is right or wrong.
Previews: Oct. 25 @ 7 p.m., Oct. 26 and 27 @ 8 p.m.
Opening Night: Saturday, Oct. 28 (curtain at 7 p.m.). Includes a pre-show champagne and chocolate reception in the lobby and an after-party at Rhumb Line in Ventura Harbor!
Performances through Nov. 12
Purchase tickets before Nov. 3 and save $5! Use code: 9916
Call the box office at 667.2900 or online at rubicontheatre.org.