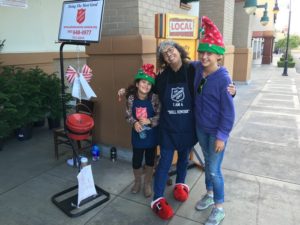 The Salvation Army of Ventura County invites you to the Kettle Kick- of Holiday Gala Dinner Buffet and Dancing! Music and Dancing with the Barrelhouse Wailers at the Pierpont Inn, 550 Sanjon Rd, Ventura.
Saturday, December 9, Cocktails 5:30 – 6:30 PM. Dinner and Dancing 6:30 – 11:00 PM
Table of 8 $350.00. Table of 10 $400.00
Individuals tickets $50.00
Visit salar.my/kettlekickoff to purshase tickets online.
Kettle season will be opportunity to support The Salvation Army programs. All funds raised during the annual Red Kettle campaign helps provide food ,shelter for needy county families , restocking food pantries, and supports Salvation Army social services and youth programs throughout the year.
The goal for this kettle season is to have 25% more volunteers than last year. They encouraged groups, such as churches and civic organizations, to join in.
The Salvation Army believes that kettles located at local business will add to their customers experience by spreading holiday cheer and warm wishes to all.
The Angel Tree program is different from other holiday assistance programs because a sponsor is able to feel a special connection with his/her "adopted" child. The sponsor receives the child's first name and a personalized needs and wish list for the child. The wish list given to the sponsor Is thoughtfully prepared by the child's parents so the sponsor knows that he/she is buying something the child needed.
Much of the support of Angel Tree comes from local businesses and organizations that adopt multiple angels as a way to give back to people in their community.
Whether you want to adopt 5 Angels or 50, this support makes Angel Tree possible. If you are interested in adopting Angels this Christmas, check back soon and make your angel tag request before the rush!
Contact Silvia Simoes, Lieutenant Corps Officer at (310) 308-0691 or silvia.simoes@usw.salvationarmy.org for more information.