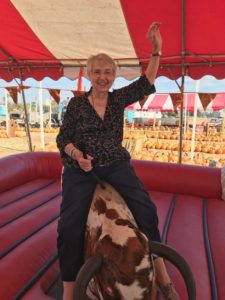 Cypress Place Senior Living memory care residents visited Prancer's Pumpkin Village in Ventura on October 18 for pumpkin picking, hay rides, a petting zoo, and an exciting ride on a mechanical bull.
The seniors reside in the "Generations" Memory Care community at Cypress Place, a specially designed area for residents with Alzheimer's and other forms of dementia.
One of the residents, 87-year-old Mary Edwards, grew up on a farm and loved all the animals in the petting zoo. She also quickly volunteered to ride the mechanical bull. Based on the smile on her face it was clear that while you can take the girl out of the country, you can't take the country out of the girl.
In addition to offering an active, nurturing environment for residents with Alzheimer's and other forms of dementia, the senior community also offers an ongoing Alzheimer's & Dementia Caregivers Support Group for family members. The support group meetings are held from 9:30a.m. to 11a.m. the first and third Wednesday of every month at Cypress Place Senior Living in Ventura.
The support group meetings are free and open to the public and are led by Norma Featherston, R.N., M.S., Gerontology. Featherston is a geriatric care consultant with New Hope Senior Services. She formerly worked for the Alzheimer's Association. Seating for the support group is limited so please call to reserve a seat.
Cypress Place Senior Living is a premiere senior community in Ventura County. The beautiful senior living campus features an Active Senior Living community and adjacent Assisted Living and Alzheimer's/Dementia Care community connected by a lushly landscaped courtyard.
This safe, loving environment offers residents a continuum of care through life's transitions. Amenities include three meals daily, weekly housekeeping, transportation, activities, utilities, as well as personal caregivers and laundry service in the Assisted Living and Memory Care communities.
Cypress Place Senior Living is located at 1200 Cypress Point Lane in Ventura. For more information, please call 650-8000, or visit their web site at www.cypressplaceseniorliving.com.