Executive Director Derek Poultney ,Ventura Mayor Erik Nasarenko and Board President Paul Meehan welcomed those attending name change.
by John Hankins- Trustee for the VLT
The Ventura Hillsides Conservancy is now called the Ventura Land Trust (VLT), a name change driven by significant opportunities for public recreation and land restoration, more members, business partners and funding.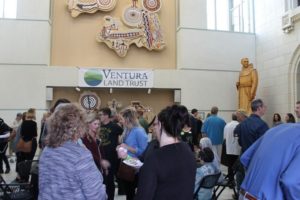 "This is a very important evolution in our history," said Executive Director Derek Poultney at the rebranding party Oct. 5 at Ventura City Hall. "This is a formal excuse to share with you that we have a much bigger vision and are on the cusp of something huge."
That 'something' is the likelihood for permanent public access into about more than 2,000 acres of now-private lands along the rivers, hills and valleys often visible and inviting, but no trespassing is allowed.
"That is exciting," Ventura city Mayor Eric Nasarenko said to cheers and applause. "It will bring economic vitality, open up the tourist market and showcase what makes Ventura so special."
Poultney noted that, "for decades we've had to go to Ojai, Santa Monica Mountains and Santa Barbara to have the outdoor experience." This "gift to the community" is permanent, he stressed, as even National Parks can be taken away by political action.
The Hillsides Conservancy formed in 2003 when a group of citizens rallied together to monitor housing projects encroaching on Ventura's natural background. It became well-known for its success by attracting thousands of volunteers for education programs, hands-on restoration, and the popular Wild and Scenic Film Festival.
It already has two properties along the Ventura River, transforming the landscape to its natural state, along with habitat stewardship throughout the county. VLT is negotiating for 2,100 acres of prime open space in the hills above Ventura to provide miles of nature trails for hiking, biking, and simple enjoyment.
"The time is right to update our name and look," Poultney said, emphasizing that Ventura has waited generations for owners willing to sell properties that are so near, yet so far away for public access.
The rebranding party attracted local politicians or their reps, businesses, volunteers and members. Most of all, credit was given to the "insane amount of work" by VLT's staff and by its board of trustees.
To leap forward, "we need everybody's skin in the game," he concluded and urged the public and businesses to help support what is a "game-changer for Ventura."
To join, volunteer or sponsor events, call the VLT at 643-8044 or visit: www.VenturaLandTrust.org