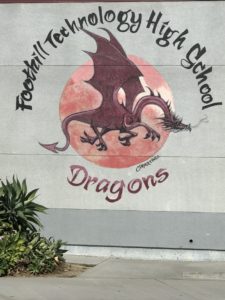 by Jennifer Tipton
Foothill Technology High
Located at 100 Day Rd, Foothill Technology High School opened in 2000 to alleviate the overcrowding of our city's two existing high schools, Ventura and Buena. A California Distinguished School since 2005, Foothill is also a magnet school, which is a public school offering special instruction and programs not available elsewhere and designed to attract a more diverse student body from throughout the district.
Admittance is determined by a random lottery that is very competitive but I'm told not in an academic way. There is an "anchor sibling rule" whereas if an applicant has a sibling already at Foothill, they will also get in but they still must go through the application process. Principal since 2002, Joe Bova reports that each year just under 600 students apply and about 275 are accepted. Offering grades 9-12 the current student enrollment is a little over 1000. Due to the smaller student population, Principal Bova feels the staff is more connected with the kids, in fact, all six of Bova's kids currently attend Foothill!
There is the Bioscience Academy and a new Design Technology Academy blending engineering, design and entrepreneurship that was just developed last year. Technology is infused everywhere on campus with over 800 mobile devices available and students can also use their cell phones (when appropriate) for instructional purposes.
The school mascot is Dragons and although there is no gymnasium on campus, there is a Core Athletics Program (CAP) similar to what universities offer that was developed about four years ago. Students can choose from classes offered at Maverick's Gym, Ventura College and the Ventura Aquatics Center. There are 11 sports and 37 teams to choose from.
Principal Bova reports that the students at Foothill are given more homework than kids at other high schools, with the honors and A.P. (advanced placement) students averaging 3-4 hours of homework per night. While many graduates go directly to a 4-year university, 40-45% go to Ventura College first. Bova states, "the success rate is really good, not only are the students well prepared for a university, many come back saying it's easier than it was at Foothill (unless of course we're talking about Harvard!)".
Famous Alumni? I could only find one, Brandon Paak Anderson (stage name Anderson Paak), a singer, songwriter, rapper drummer and record producer that graduated from Foothill Technology High School.
Bragging rights? Foothill Technology High School won the National Blue-Ribbon Award in 2006 and again in 2012. The school also ranks in the 308th spot nationally, 53rd in all of California's high schools and 63rd of all the magnet high schools.
For more information visit foothilltechnology.org.