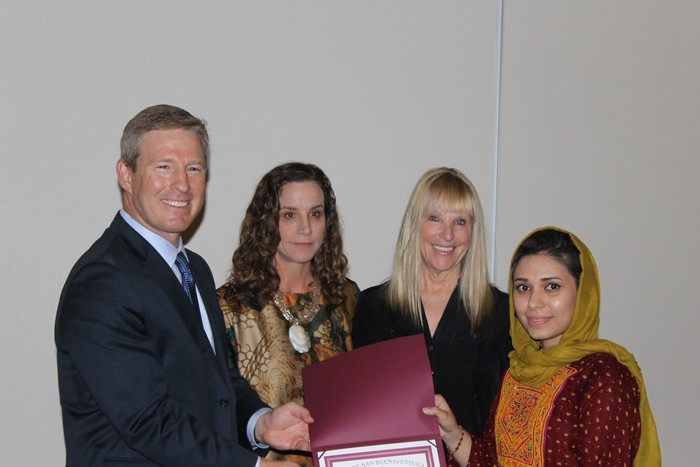 Mayor Erik Nasarenko honored two distinguished artists at the Museum
On Wednesday, Oct. 4 the 2017 ArtWalk Collectors Reception was held at the Museum of Ventura County. Ventura Mayor Erik Nasarenko honored the two "Distinguished Artists." Honored were Artist of Distinction Maribel Hernandez and Global Artist of Distinction Shamsia Hassani.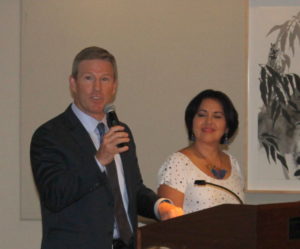 A sampling of the juried works by 2017 ArtWalk featured artists was also on display. ArtWalk was held in Ventura on Oct.7&8.
The well attended event was hosted by the City of Ventura and the Museum of Ventura County
in the Smith Pavilion . The evening included music, hors d'oeuvres and a no-host beer and wine bar.
Maribel Hernandez is a native of Michoacan, Mexico who moved to California in 1988 at the age of 18. Her first art classes were at Ventura College where she found a love for creating wonderful art. Her working studio is located at the Bell Arts Factory located on Ventura Ave. where her diverse and colorful artwork can be seen.
Global Artist of Distinction Shamsia Hassani traveled from Kabul, Afghanistan, to take part in ArtWalk. Her murals depict the hardships of her hometown. She was born in Tehran in 1988 to Afghan parents and is a fine-art lecturer at Kabul University. Recently she completed a residence at the Hammer Museum in Los Angeles where she was brought to the attention of ArtWalk.