This wonderful tree carving is the work of artist John Mahoney, with the assistance of Jason Rose.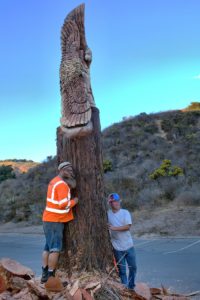 The tree is an American Redwood, and was a part of a grove of Redwoods planted in Arroyo Verde Park many years ago.
Our Southern California drought took its toll on the trees, and the grove of redwoods died within the last few years. West Coast Arborists removed the trees (39 of them) and the wood was harvested and milled and will be made into picnic benches that will be put back into the park. West Coast Arborist, Inc. are the Urban Forestry Contractor the city has used for over 10 years to help maintain the City trees.
Photos by Michael Gordon