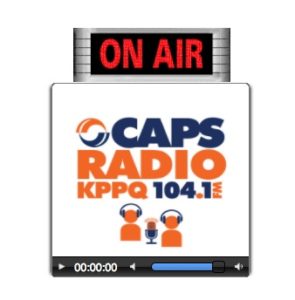 CAPS Radio, KPPQ 104.1 FM has joined CAPS Television (Channel 6 & 15) by streaming programming on the web 24×7. Now everyone in and outside of Ventura can enjoy the diversified programming from CAPS Media on cable, on the radio airwaves and streaming on the web. What's on? Programming schedules are on the CAPS Media website – capsmedia.org. Plus, with a click of a button, capsmedia.org has direct access to the television and radio programming.
CAPS Media joined the Art Walk festivities downtown by setting up the CAPS Production truck, stage and radio station recording on California near Santa Clara. CAPS Radio hosts and DJs were on hand interviewing a variety of guests, and the public had front row seats to watch El Camino High School students conducting interviews for their award-winning television series, ECTV. CAPS Media staff were on hand to provide tours of the production truck and CAPS Radio.
Tours continued on Tuesday when CAPS Media hosted a special open house and tour for Ventura College students and faculty at the CAPS Media Center. Tours included the studio, control room, editing suites, meeting rooms, production truck, KPPQ 104.1FM radio station and more. The event was an opportunity for VC students, faculty and friends to see the complete range of resources, services and training available at the CAPS Media Center located on the Ventura College campus.
The new school year brings Season 3 of Ventura's Mayor for A Moment series where outstanding 5th graders are recognized by the City and the Ventura Unified School District. CAPS Media produces video profiles featuring the young mayors, principals and schools. The first two "Mayors" are Brayden Rocco from Portola Elementary and Olivia Blomquist from Poinsettia Elementary. Coming up in November and December are young mayors from Will Rogers and Citrus Glen.
The new school year is a good time to look into becoming a Member/Producer at CAPS Media. If you are interested (or just curious) orientation meetings are held on the first Thursday of every month. HD videography/camera classes are on the 2nd Thursday, Final Cut postproduction editing classes are on the 3rd Thursday, and CAPS Radio (KPPQ, FM 104.1) holds classes on the 4th week. In every training session Member/Producers receive hands-on instruction in videography, video editing, radio production and more. All classes begin at 6pm at the CAPS Media Center, 65 Day Road. Once trained member/producers may check out CAPS Media's equipment to record their story and then book editing suites to craft the story they want to tell.
CAPS Media's mission is to create an engaged and informed community through participation in electronic media. Go to capsmedia.org to see programming schedules, search the archives for past programs, get general info and sign up for classes. Anyone who lives, works or attends school in the city of Ventura may become a Member/Producer. Annual membership fees are only $25 for an individual and $75 for a non-profit organization. CAPS Radio DJs require an additional annual fee of $50. For complete information go to capsmedia.org.