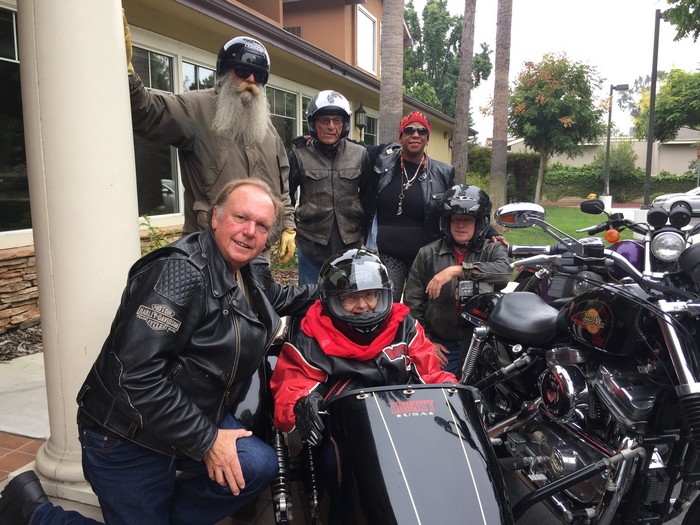 Have you ever had a dream? Hope Jeter did. Hope is a resident at Cypress Place Senior Living in Ventura. She resides in their Generations Memory Care community, a specially designed area for residents with Alzheimer's and other forms of dementia.
Just shy of her 95th birthday, Hope shared that her dream was to ride on a motorcycle. Asked if she had ever been on one she replied, "No. I've sat on one standing still, but I've never ridden on one."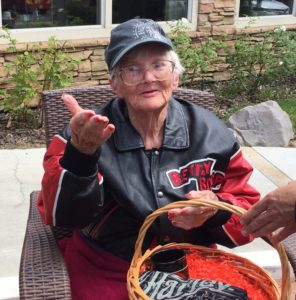 When Generations Memory Care Coordinator, Sarah Perez, got wind of Hope's dream, Sarah and the staff at Cypress Place went to work to fulfill that dream. With the help of Melinda and Becky from Ventura Harley-Davidson, and motorcycle owner Jim Estes, Hope took her very first ride in a sidecar, at the tender age of 94!
Jim invited his Harley riding friends, Tucker, Robert, Patricia and Gregory to join the procession. Cypress Place friends followed along in the Cypress bus to cheer her on. The adventure included a sidecar trip to Rincon, lunch at In-n-Out Burger, and a basket full of gifts from Ventura Harley Davidson, all making it a memory-making, ride-of-a-lifetime for Hope.
If you have a loved one struggling with dementia, Cypress Place Senior Living will be hosting a Dementia 101 Seminar titled "Exciting Breakthroughs & Practical Tips". Guest speaker for the seminar will be Norma Featherston, R.N., M.S., Gerontology. Featherston is a geriatric care consultant with New Hope Senior Services.
A variety of important topics regarding Dementia will be covered including: who can get it, how they get it, what to expect, practical tips and strategies for everyday use, and information on exciting breakthrough research and what it means for you.
The free Dementia 101 seminar takes place from 10a.m. to 11:30a.m. on Saturday October 14 at Cypress Place Senior Living in Ventura and is open to the public. Light refreshments will be served.