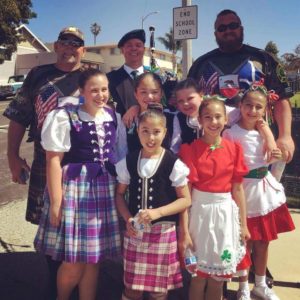 A Scottish/Celtic Festival called the Seaside Highland Games is about to invade the Ventura County Fairgrounds once again as they have done for each of the past fourteen years! On one magical weekend—this year on October 14 & 15—the entire seaside Fairgrounds becomes the re-creation of a giant Scottish village with all the activities going on just as they would have in times of old. And the entertainment to be experienced is endless! And you may participate to the level that suits you. Come in full Highland dress—kilts and hose for the gentlemen and kilted skirts and tartan sashes for the ladies—all the way down to shorts and flip-flops if the weather permits. It doesn't matter!
Those vying for prize money in one of the judged competitions will be properly outfitted for the occasion. Kilts are a must for the giant Scottish athletes, whether laddies or ladies, and Highland and Scottish Country Dancers will look every inch the part as they would have before the dukes and duchesses of old. The Seaside Games is well known for their generous purses and scholarships assisting students of the Celtic arts to further their education toward professional prowess. Observing these young competitors as they strive for excellence is a special privilege reserved for those who attend the Festival.
Festivities begin Friday evening at the Four Points Sheraton Hotel with a grand Single Malt Scotch Tasting at 5pm followed by a fine buffet supper and an elegant Scottish Fashion Show.
Gates open Saturday and Sunday at 9am for your enjoyment of all venues on the field. Four entertainment stages with great local and long distant talent, bagpipers and drummers, of course, alone and in the many bands marching and competing. Fiddles and harps—an actual Harp Glen with Harp Petting Zoo—the amazing herding dogs demonstrating their sheep-herding skills and an endless array of Clan and Societies stretching along Clan Row where you will be welcomed and feted by the tent you choose to visit.
Beautiful Scottish and Celtic products displayed for sale at a wide array of top vendors for your consideration (excellent for Christmas/Holiday giving) and a fine selection of authentic British food and beverage when you are ready to take a welcome break. The two days will fly by so quickly that you will want to take in both so as not to miss anything. Beautiful Opening Ceremonies on Saturday and a fine and emotional Closing Ceremony Sunday as well-deserved prizes are granted. A solid two days of culture and camaraderie. Make plans now to be there on that special weekend in October. www.seaside-games.com