Ventura Mayor Erik Nasarenko addressing the students. Photos by Bernie Goldstein
On September 1, a virtual reality 360° driving experience showing the potentially deadly consequences of smartphone distracted driving was held at Buena High School, 5670 Telegraph Road.
The event included a simulator car, virtual reality gear, signage and a digital education display. The It Can Wait simulator was accompanied by AT&T It Can Wait campaign ambassadors.
AT&T partnered with the Ventura Police Department and Buena High School to bring awareness about the dangers of smartphone distracted driving with its virtual reality simulator.
Ventura Mayor Nasarenko told the students, "Six thousand individuals die every year because of distracted driving. That would be like the entire student body of Buena High School vanishing along with two other high schools of the same size. So don't send that text, answer the phone, or put mouse whiskers on the Snapchat photo while you're driving. Remember, It can wait."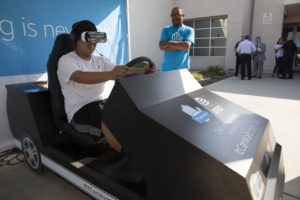 The students learned that:
Distracted driving is anything that takes a driver's eyes or mind off the road or hands off the steering wheel -especially texting and cell phone use, whether hands-free or handheld. Who's doing it? Most drivers. It has been estimated that, at any one time, over 10 percent of drivers are using a mobile device.
According to the California Office of Traffic and Safety:
80 percent of vehicle crashes involve some sort of driver inattention.
Up to 6,000 people nationwide are killed in crashes where driver distractions are involved.
Talking on a cell phone or texting is the number one source of driver distractions.
Texting takes a driver's eyes off the road for an average of five seconds, far enough to travel the length of a football field at 55 mph. Most crashes happen with less than 3 seconds reaction time.
What can a driver do? They can obey the law. They can also work to eliminate distractions:
Never text and drive.
Turn off the phone when you get behind the wheel.
Don't text or call someone when you know they are likely to be driving.
Make a pact with family, spouse, and caregivers never to use the phone in the car.
No eating or drinking while driving.
Don't program your GPS, MP3 player or other devices while driving.
Pull over and stop to read maps.
No grooming, no reading, no watching videos.
If something falls to the floor, pull over before trying to reach it.