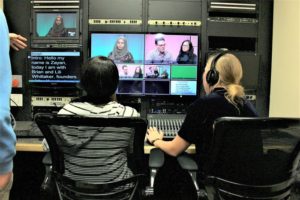 The new school year presents media opportunities for students of all ages to get engaged at the CAPS Media Center. ECTV is back for a third season. Every week El Camino High School students take over the CAPS Media Center to produce their own television series under the ECTV banner. Students in the CAPS Media/El Camino internship program master the skills and art of video production and digital storytelling. Principal Cheryl Burns expressed her excitement at the start of the new year. She feels strongly that ECTV provides her students with real world experience and has found this to be a life changing program for many. The ECTV productions are completely written, storyboarded, produced, staged, recorded, directed, hosted and edited by the El Camino team members. In the first two seasons ECTV has received local and national awards including Best Informational Talk Show Series in the Student category at the National Alliance for Community Media conference. ECTV programs air on CAPS TV (Channel 15). All of the ECTV programs are available on the CAPS Media website at capsmedia.org/videos.
The City of Ventura and VUSD's popular Mayor For A Moment program also returns with a new season of stories on outstanding local students. Every month CAPS Media profiles an outstanding 5th grader recognized by the Ventura City Council and the VUSD School Board. The Mayor For A Moment videos premiere at City Council meetings as an introduction to the young mayor's big moment at City Hall, and a second, more complete video is shown later at a VUSD Board meeting. A compilation program of last school year's honorees is airing on CAPS Media and can be reviewed online at capsmedia.org/videos.
September is also a great time for community members to become CAPS Media Member/Producers. CAPS Media offers new member orientation meetings on the first Thursday of every month. HD videography/camera classes are held on the 2nd Thursday, and Final Cut postproduction editing classes are on the 3rd Thursday. CAPS Radio (KPPQ FM 104.1) holds training classes on the 4th week – Wednesday and Thursday evenings. Member/Producers receive hands-on instruction in videography, video editing, radio production and more. All classes begin at 6pm at the CAPS Media Center, 65 Day Road. Once trained member/producers may check out CAPS Media's video cameras, tripods, audio gear and other production equipment to record their story and then book postproduction editing suites to craft the story they want to tell.
CAPS Radio (KPPQ, FM 104.1) is hosting an open house and community information discussion on Wednesday October 4th at 6pm at the CAPS Media Center at 65 Day Road. Everyone interested in community radio is invited to tour the center and join the exchange of programming ideas and direction for the radio station.
Go to capsmedia.org to see a programming schedule, search the archives for past programs, get general info about membership and classes. CAPS Media's mission is to create an engaged and informed community through participation in electronic media. Anyone who lives, works or attends school in the city of Ventura is eligible to become a Member/Producer. Annual fees are only $25 for an individual and $75 for a non-profit organization. CAPS Radio DJs require an additional annual fee of $50. For complete information go to capsmedia.org.