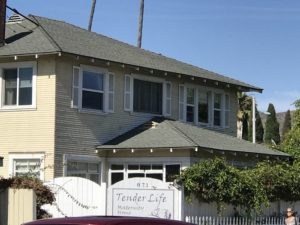 by Jennifer Tipton
Tender Life, a program of Project Understanding never really closed, but has been empty with the program "on hold" for the last few months.
After extensive restructuring, Tender Life has reopened its doors to continue to provide services to expectant young mothers who might otherwise be without a home.
Located at 871 E. Thompson Blvd, the Tender Life Maternity Home sits right next door to City Center (the transitional living center to help the homeless), so it certainly makes sense that Pastor Jim Duran of City Center will oversee the program!
Lauren Stockton is now the live-in house manager and case manager. Lauren was a resident at Tender Life nearly 20 years ago and now she is helping others who are where she once was. "Her life has come full circle", says Pastor Jim.
Pastor Jim also stated, "women who move in are pregnant, it's not a disability, it's a part of life" and explains some of the changes to the program such as, now residents are expected to work. He realizes most have no experience with job interviews so residents are provided with a mentor to guide them, assist with transportation and are also given parenting classes. Much like City Center, Tender Life is grooming these women to be independent.
Applicants do need to interview to be accepted to the program and where 6 months of sobriety was the previous requirement, restructuring allows a much more flexible standard with 90 days now being the minimum.
The home can take 8 residents, 2 are scheduled to move in on August 4th with 2 others interviewing that same week. The plan is to have the house full by the end of August.
In addition to the house, there's a small "granny flat" on the property which has now been rented to a City Center graduate and her family, again allowing an opportunity for one success story to mentor another just starting on that path.
Originally set up to allow Tender Life residents to stay just 90 days after the baby, the restructuring makes it much easier for mamas and babies to transition into a room at City Center.
Tender Life Maternity Home receives no grants or government assistance, it is funded by churches and private donors. The biggest fund raiser is the "Walk for Tender Life" event taking place each March, but there is also "The Baby Bottle Drive" ongoing throughout the year. Both welcome all participants!
For more information call Tender Life at 653-7474.