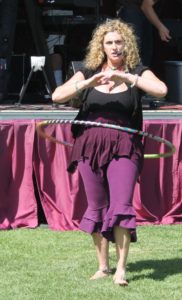 by James Francis Gray
World traveler Andi Epstein, also known as Andi Girl, is the creator of Hoop Habit Teacher Training. Her mission is to instruct practitioners of energy and therapy. This movement brings the fun of hooping to a new level, offering a bio spiritual life tool that helps you guide your own path.
She just returned in July from Ireland where she was teaching Energy workshops, Tantra Fusion and offered a Hoop Yourself Well retreat at Creacon Wellness Centre. https//www.creaconwellnessretreat.com/.
She also takes a week long training session to refresh her credentials with her teacher. Ireland is truly a magical place where healing is found for everyone. Andi loves offering this yearly event on the Emerald Isle.
She, in her mid-thirties, began in the autumn of 2005, putting the "Cutie with the Bootie on the Move" into action, shedding her dress size from 20 to 12 in six short months. Talk about hard work. Her motto, "Feed the Craving," works for her and it can work for you.
This added skill brought a new addition to her 30-year career as a Certified Life Coach, specializing with hands-on holistic training.
Andi's energy is off the charts with her passion where Hooping fun meets functionality. She shows her clients where they are now, using their own currency grid, or energy system. Then she helps remove boundaries, navigating limited beliefs to free up movement. You can heal yourself into a new reality—the one you've always dreamed of, and more!
In 2009, Andi-girl was called a 'Modern Goddess of the Boardroom' fusing the alternative Healing Systems of Tantra Fusion, Rising Star Hoop Habit ™, the Healing Habit into Corporate Wellness programs. These programs are committed to raising global consciousness through healing and applying practical tools for healthy living.
This fall, Andi will be touring the east coast of the U.S. She'll also give weekend retreats in the Midwest.
Web page: Welcome to www.HOOPHABIT ™.com!
Hoop Habit … is a one-stop source in play therapy and motivational movement.
For contact information hoophabit@gmail.com.