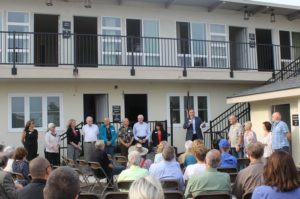 by Jennifer Tipton
Thursday, July 13th was a cool and breezy evening, nonetheless, about 150 folks showed up to support the ribbon cutting for the new rooms at the City Center. Including our City Councilmember Matt LaVere who addressed the crowd "I am so honored to be here tonight. We're all here to recognize Jim Duran and the Board for everything they do for the City of Ventura and for making a huge difference in our community!"
The City Center is a transitional living program to help the homeless get their lives back on track. "It's not a handout, it's a working program", as one of the graduates stated. Residents do pay rent and are required to save a portion of their income. Jim Duran, who heads the City Center tells me they are also required to advance in their place of employment or go to trade school, college or any other training that would advance them financially.
The newly renovated eight rooms provide housing for the graduates of the initial phase of the program until they are fully ready to be independent, several rooms are already occupied.
With a few "hiccups" along the way, construction took longer than anticipated, so completion was truly a celebration! Jim Harrasta came in as a carpenter to do windows and says he "just ended up staying" as a project manager. There have been 3 project managers to date and Jim says, "it's been a collaborative effort."
Sponsors of the newly renovated rooms include:
Lowe's Ventura, Bill & Elise Kearney, Coast Water Solutions, Shondra & Eric Vielbig, Pacific Western Bank, Lori & Andre Nintcheff, Trinity Lutheran Church, Wendy Lawson (to honor her mother Laura Sann) and Leadership Ventura – class of 2011.
Although these rooms are completed, the project is ongoing with a playground in progress, plans for a learning center and additional rooms. The goal is to have 30 functioning rooms and since the current rooms aren't large enough for families greater than 5, there is talk of perhaps putting two rooms together.
The rooms are small with a bathroom but do not include a kitchen, but there is a large kitchen (sponsored by Leadership Ventura) available for resident's use.
The new landscaping was done by Chris & Kristal Shreenon from Bird Dog Landscape and Irrigation, they currently have a daughter with an infant and a 4-year-old residing at the City Center.
For more information- thecitycenter.org or 628-9035. Located at 837 E. Thompson.