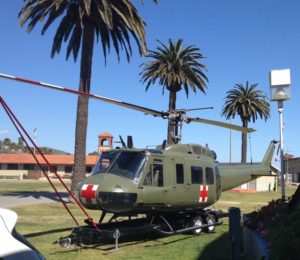 What the jeep was to Americans during World War II, so was the "Huey" helicopter to those who fought in Vietnam, according to the The National Air and Space Museum of the Smithsonian Institution. All branches of the U. S. military operated them during this conflict.
The term 'Huey' originated in the U. S. Army as a derivative of the original designation HU-1A – meaning, Helicopter, Utility, Model 1A, hence the nickname "Huey". For a time, the Huey was one of the most recognizable aircraft in history. People knew it not just on sight but by sound, too. They usually heard the unmistakable whop-whop-whop of the main rotor blade long before they saw a Huey.
On Wednesday June 28, at Cypress Place Senior Living in Ventura, a real Huey Army MEDEVAC helicopter will be on display from 11am to 1pm during the senior community's annual "Salute To Our Veterans" event.
The helicopter on display has bullet holes from its time in Vietnam, according to Bryan Scofield of Scofield Catering and Management, the owner of the retired Huey. The helicopter is over fifty feet in length according to Scofield, and evokes powerful emotions in Veterans and almost anyone who sees it.
No less emotional will be the ceremony recognizing residents of Cypress Place, as well as members of the public, who served their country.
A military Color Guard presentation will lead the tribute, followed by a special Veteran recognition, along with recognition of widows and widowers of Veterans. Keynote speaker will be Captain Chris Janke, Commanding Officer, Naval Base Ventura County.
Attending the event with Captain Janke will be several sailors from the naval base. They will be available to meet members of the audience after the ceremony, and to meet and thank the Veterans in attendance.
Special words of thanks will be also be offered during the ceremony by Mike McManus, Veteran's Service Officer from the County of Ventura, as well as Ventura City Assistant Fire Chief Matt Brock, and Ventura Chamber of Commerce President and CEO Stephanie Caldwell. There will be live musical entertainment, a flag folding ceremony, and TAPS will also be played at this touching tribute.
A free BBQ lunch will follow the powerful program. "Touching History", a private war memorabilia collection by Tom Weaver will also be displayed, along with memorabilia from residents of the senior community.
A patriotic quilt, made by the daughter of a current resident Veteran of the senior community, will also be given away. The event is free and open to the public. All Veterans are encouraged to attend, as well as families, friends and neighbors.
"This is an event for the community to come out and show their support for Veterans, whether you know them or not," said Mike Macke, director of sales and marketing at Cypress Place. "And it's also a unique opportunity to see a storied piece of military aviation history, up close and personal."
The event begins promptly at 11am. Cypress Place Senior Living is located at 1200 Cypress Point Lane in Ventura. For more information or to RSVP, please call 650-8000.
Free shuttle parking will be available at Unitarian Universalist Church of Ventura (corner of Ralston Street and Cypress Point Lane).