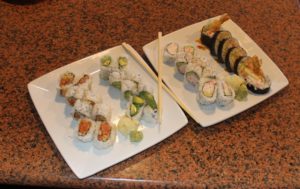 Kibo Sushi – Who knew?
by Jennifer Tipton
Located in midtown on Thompson Blvd. lies a modest little sushi restaurant called Kibo Sushi whose appearance is not especially extraordinary, so it would be easy to drive by without giving it a second thought.
However, once you walk into Kibo Sushi this humble little establishment becomes quite impressive with a very clean and charming interior. There are booths, tables or you can sit at the bar and watch the sushi chef work his craft. There is also outdoor patio seating(dogs are welcome), plenty of parking and the dress is very casual.
The menu is quite extensive, offering much more than sushi. There are appetizers hot or cold, salads, soups and noodles, sushi and sashimi (of course), a large variety of rolls, tempura, specialty bowls and even vegetarian entrees… whew! The problem lies in making a selection, but the server was kind enough to give us his personal recommendation which narrowed it down somewhat.
Amidst this vast menu lies lunch and dinner specials which for the price are an unbelievable deal with the lunch special running around $10, and it includes soup and salad with your choice of entrée. Dinner specials are slightly more, but again offering so much more than just the fishy stuff with entrees like chicken, steak or ribs prepared several different ways – too many to mention.
Kibo also offers a free VIP members card where a percent of every tab is tallied until it results in the amount taken off a future dining experience, and they deliver through 805TOGO.COM.
With food that fresh and flavorful, service that is outstanding, late hours and even a Happy Hour Monday through Saturday – Kibo has everybody covered!
My only concern is that they don't offer left handed chopsticks…