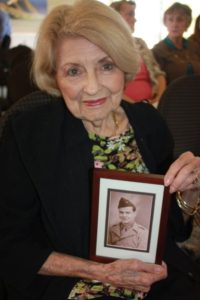 by Lori Harasta
Sacrifice.  Few people know the meaning more than the spouses of military warriors, waiting, worrying, and praying for a safe return home.  More than 40 spouses were honored at a ceremony at the Ventura Townehouse on May 12.
The Friday before Mother's Day was officially designated by President Ronald Reagan as "National Military Spouse Recognition Day" in 1999.  This is the second year Livingston Memorial Visiting Nurse Association has honored military spouses in a ceremony.
Diana (Dinah) Davis, Branch Manager for Livingston, knows first-hand about sacrifice.  Her father was a 30-year Army veteran, her Father-In-law is a retired Air Force Lt. Colonel, and several other family members including nephews and niece have served. She also has twin Air Force officers  who are both currently deployed.
It was Dinah who initiated Livingston into the "We Honor Veterans" program several years ago.  Since then she has planned and participated in two to three veteran-honoring events each year.
Mike McManus, Ventura County Veteran Services Officer and Air Force Veteran, gave opening remarks.  He read a letter entitled "A Soldier's Promise", followed by a reading of "An Army Wife's Promise" by Teresa (Tree) Pavan, Vice-President/COO of Livingston. The letters were written by Megan Williams while her husband was serving his second tour in the heart of Kandahar for eleven months.
Guitarist Dave Haynes accompanied April Davis as she sang the sweet and sentimental song, "The Locket" and eyes in the audience were dabbed.  A video presentation, followed which included military spouse testimonials.
The pinning ceremony involved military spouses being honored one-by-one with a certificate of appreciation, an American flag pinned close to their hearts, and single red rose.
A new element was added this year, as wives of active duty servicemen were honored.  Jazmine Dominguez, Concierge at the Ventura Townehouse, is one currently experiencing the sacrifice of service as her Navy husband of two years, Miguel Dominguez, is away from home being trained for deployment in October.
"You don't sleep.  You go stir-crazy!"  They were moved 8 months ago to the Port Hueneme Base, away from family and friends.  "The other wives are helpful and supportive, and I'm grateful for them.  It's like having another family."
Jazmine's sacrifice means a lifetime of uncertainty.  "It's about missing him and trying to get used to not having him there, then trying to get used to having him back in my life and will he be the same as when he left?"  And doing this over and over again. "If civilians could understand the sacrifices made, what they go through to keep us safe, I think they'd be more appreciative of what it means to serve our country."