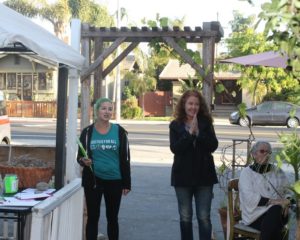 by Jared Brewer
What began on a single day with a single march has since evolved into a full-fledged coalition consisting of nine distinct task forces, each with a particular issue at its focal point. The grassroots organization Justice for All was formed after the resounding success of January's March for Justice, which assembled an estimated 2,500 people to coincide with the Women's March on Washington. As a whole, the organization aims to "mobilize a positive and peaceful movement in West Ventura County that supports an inclusive America that upholds human rights and equality for all." For more information, including ways to get involved, visit Facebook.com/justiceforallventura.
On Wednesday, May 17th, the Race, Ethnicity, and Cultural Equity task force convened at A Secret Garden Florist Café to celebrate diversity and equality through communal discussion, poetry, and music. The event, which lasted from 6:00 until 8:00 p.m., included original performance art provided by members of the task force and inspired by personal experiences or encounters with discrimination and inequality.
Tino Garcia, professor of English at Antelope Valley College, kicked off the festivities with his song, "Sankofa." The title, an African word from the Akan tribe in Ghana, literally translates as "it is not taboo to fetch what is at risk of being left behind." Garcia, who is originally from Santa Fe, New Mexico, said he was drawn to the Race, Ethnicity, and Cultural Equity task force largely because of his personal background and celebration of diversity as an educator.
Ana Maria Enke, co-chair of the task force, recited a poem from her native Colombia, which she translated to English. For her, activism was not always a viable option. "Growing up in Colombia we were told to be quiet because it was too dangerous to speak," she said. "There were so many people that were killed when they were just trying to defend what was right. So we were always told to just be safe and to not ruffle any feathers. But now that I'm older I've decided that I'm not going to let anyone else tell me to not ruffle the feathers. This matters to me and it matters to my daughter, and I just couldn't stand by and be quiet." She and her family immigrated to the United States in 1989.
The evening drew to a close with a series of activities designed to identify implicit biases and help group members empathize with those from unique backgrounds and perspectives. In one activity, co-chair Christine Burke invited participants to count the number of "f's" in a portion of text. Many failed to detect those in the word "of," which Burke described as "just one example of how our brains go in the direction they are taught."
Kathleen Shore, co-founder of Justice for All and doctor at Ventura County Medical Center, underscored the importance of unity in times of increasing division and intolerance. "The mission of Justice for All is really to bring people together and to stand up for one another," she said. "People are being put down and attacked, and we want to empower people to stand up for whoever and whatever is being attacked. And that's our grand vision of this organization, to create avenues for people to do that. I think this movement is critical for learning to make more bridges between each other rather than walls. As a doctor, I believe that all humans are created equal, and that's a big part of why I'm a doctor and part of how I live out that vision."