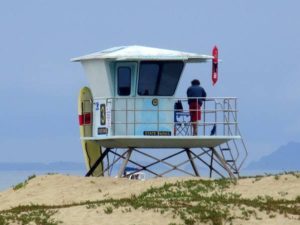 Keeping its commitment to public safety, the Ventura Port District will once again fund lifeguard services from Memorial Day weekend through Labor Day at Ventura Harbor beaches off Spinnaker Drive. Ventura Port District commissioners have decided to contract again with California State Parks for lifeguards to cover Harbor Cove and Surfer's Knoll beaches.
Harbor Cove will have a daily lifeguard from 10 a.m. until 6 p.m. and the South Beach/Surfer's Knoll area will have a lifeguard from 11 a.m. to 7:45 p.m. daily. Visit www.venturaharbor.com for updates or time changes throughout the summer. Lifeguard coverage is subject to change due to crowd and environmental conditions.
Parking is free at both beach parking lots and free street parking is also available on Spinnaker Drive.
"I'm glad the board has allocated money to make our harbor beaches safer by having state lifeguards present from Surfs Knoll to Harbor Cove beaches through the summer season. Public safety is a priority to the Port District," said Port District General Manager Oscar Peña.
Ventura Harbor beaches are a unique summertime destination for walking, basking in the sun, playing beach volleyball and wading at Harbor Cove Beach.
Visit Venturaharbor.com for more information on Ventura Harbor beaches as well as seaside amenities.