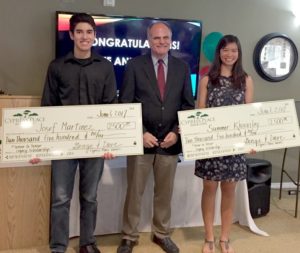 When the owners of Cypress Place Senior Living in Ventura decided to create a scholarship fund for local high school students wanting to pursue a college degree, the Cypress Place Senior Living "Senior to Senior" Legacy Scholarship was created.
By awarding two $2500 scholarships to local high school seniors, residents at Cypress Place are attempting to pass on opportunities for young people in the community, according to Steve Spira, executive director at Cypress Place.
Applicants needed to have a verified 3.2 or higher GPA and to have applied for fall 2017 admission to a college or university with the intention of obtaining a degree.  Applicants were also asked to submit  an essay about their reason for pursuing higher education along with a personal account of how a senior or seniors has affected their life.
The members of the Resident Scholarship Committee at Cypress Place read the essays, then held oral interviews with the semi-finalists to determine the two award winners.
On June 1,  the awards were presented to Summer Khouvilay of Foothill Technology High School, and Josef Martinez of St. Bonaventure High School.   Khouvilay plans on studying molecular cell and developmental biology at UC Santa Cruz, while Martinez plans on pursuing a career in professional sports management.
Ventura Unified Interim Superintendent of Schools, Joseph Richards, Foothill Technology High School principal, Joe Bova, and St. Bonaventure High School principal, Marc Groff, were in attendance, along with family members of the recipients, and many seniors from Cypress Place.
"Tonight we watched two wonderful high school seniors go confidently in the direction of their dreams," said Irv Wasserberg, a resident at Cypress Place, and the Scholarship Committee Chair
While enjoying coffee and dessert with the award winners, residents on the Scholarship Committee expressed a true sense of pride and accomplishment in their involvement in the selection process.  But reaching out to help others is nothing new to the residents at Cypress Place.  They'll be busy volunteering again on June 28th, when the senior community hosts its annual "Salute to Our Veterans" celebration with a ceremony recognizing residents of Cypress Place, as well as members of the public, who served their country.
A military Color Guard presentation will lead the tribute, followed by a special Veteran recognition and recognition of widows of Veterans with a keynote presentation by Captain Chris Janke, Commanding Officer of Naval Base Ventura County, a special Veterans memorabilia display, and live musical entertainment.
A free BBQ lunch will follow this powerful tribute.   Residents, families, and friends of the community are welcome to attend.  The event is free and open to the public and begins promptly at 11am.
As the scholarship awards evening wound down, Khouvilay and Martinez both expressed their appreciation for their awards once again.