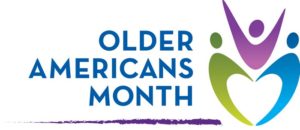 Family Caregiver Resource Center
Catholic Charities-OASIS Program
by Connie De La Rosa
The Theme for the May 2017 Older American's Month is "Age Out Loud" which is intended to give aging a new voice which reflects on what older adults have to say about aging; therefore,  Older American Month is a great opportunity to recognize and celebrate what getting older looks like today.
What is the "Older Americans Act?" The Act originally enacted in 1965 and supports various services  of home and community based services such as nutrition programs, meals on wheels, elder abuse prevention, caregivers support, transportation and in home services to assist seniors in remaining as independent and productive in their communities and homes.  The Older Americans Act (OAA) has Titles I through VII grants for State and Community Programs on Aging.  Each Title covers various programs so as an example, Title III covers nutrition, senior center programs, meals on wheels and caregiver support programs.
The Family Caregiver Resource Center, a program funded through the Older Americans Act,  in Santa Paula serves the County of Ventura in providing caregiver support groups, trainings on varies topics, respite care, assisted devices and many other resources for families caring for loved ones.  For more information, call 420-9608.