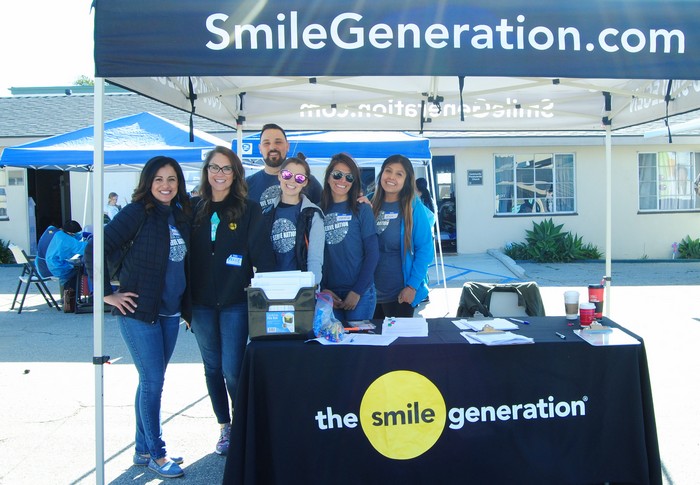 On April 15, the Pacific Dental Services Foundation, with support from Smile Generation-trusted volunteer clinicians and their dental care teams, provided free dental care to residents of The City Center
Dental  care teams set up an onsite dental clinic and, in a matter of hours, treated 29 patients and provided over $20,000 of donated dentistry. Clinicians utilized the PDS Foundation Mobile Dental Clinic (MDC) to provide treatments.
Dr. Maral Khazali of Main Street Dental Group and approximately 25 additional clinicians and support team members volunteered their time to provide the donated dental services.
The City Center is a non-profit organization (501c3)  committed to serving families who have experienced domestic violence or homelessness. The City Center offers housing to families, with a goal of transitioning the client out in a year. However stays up to 24 months are allowed if needed. Counseling and support services are provided to equip residents and create a path towards self-sufficiency.
About Pacific Dental Services (PDS) FoundationPacific Dental Services Foundation's mission to serve communities locally, nationally and internationally through improved oral healthcare is carried out in part through our Mobile Dental Clinic's efforts.
Smile Generation is a referral service that connects patients with dentists dedicated to providing an exceptional patient experience and advanced clinical care. The Smile Generation network is made up of more than 500 dental offices throughout Arizona, California, Colorado, Florida, Georgia, Idaho, Kansas, Louisiana, Minnesota, Missouri, New Mexico, Nevada, Oregon, Tennessee, Texas, Utah and Washington. Smile Generation-trusted offices are supported by Pacific Dental Services.
For more information:
www.smilegeneration.com
www.pdsfoundation.org
Visit our blog: http://blog.smilegeneration.com/
Follow us on Twitter: http://twitter.com/smilegen
Fan us on Facebook: http://www.facebook.com/smilegen