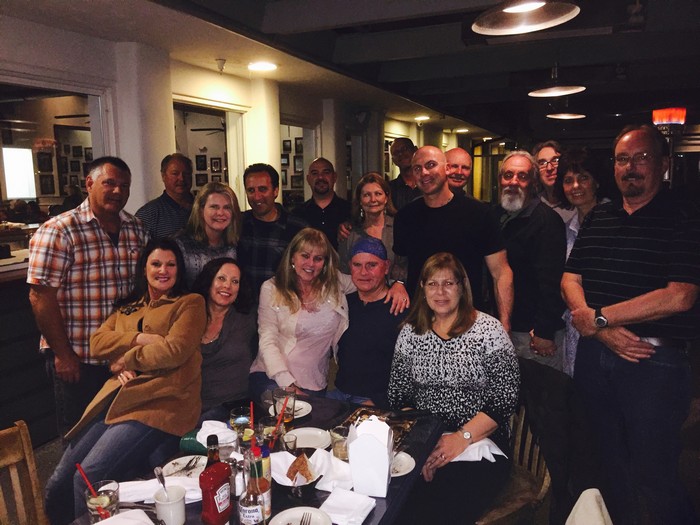 by Jennifer Tipton
The Ventura Harbor has several top picks for dining out for my husband's birthday we chose Brophy Bros. one of his favorites. Sunday, March 5th was my husband's 60th birthday.
Part of the charm of Brophy's is certainly the ambiance. You can choose to sit inside in a cozy booth or the  bar and enclosed outdoor patio both which have beautiful views of the harbor.
I reached out to Brophy's several weeks ago to arrange a surprise birthday dinner. Kerry was amazing at communicating with me via email. She put a special menu together and offered suggestions for my vegan friends. Kerry wanted to be sure all food would come out at the same time for such a large group. A special table was set up for us out on the patio and there were heat lamps as the evening was a bit chilly.
Two servers split the table down the middle. The service was outstanding! The drinks kept coming, waters were refilled and bread baskets replaced (which wasn't easy because the sourdough is super yummy and at least one friend is a "breadie" ).
Brophy Bros. is primarily a seafood restaurant however there are a variety of choices on the menu. My husband's favorite is the shrimp and crab salad. Kerry added that to our custom menu.
Back to our party … yes, all the food came out at the same time. They did a plate of grilled veggies for our vegan friends. The servers knew who ordered what even though some of us were trading places at the table not in an effort to confuse them but to visit with those at the opposite end of the table. The servers kept up! A special shout out to one of our servers, Tyler. He presented the cake with candles lit and sang with us. Although it was more work for them, checks were separate as we requested.
Hard work must pay off because Kerry tells me Tyler is now the weekend manager Saturday and Sunday afternoons.