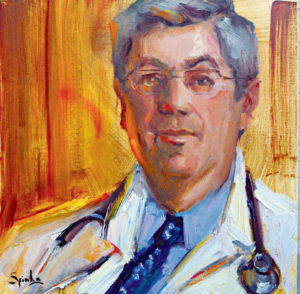 Two volunteers will be honored by Make-A-Wish® Tri-Counties at the 8th Annual Wish Night gala on March 3 at the Hyatt Regency in Westlake Village. Meredith Garofalo/KEYT News Channel 3 has been named community partner of the year for her dedicated community outreach efforts.  Francisco Bracho, M.D., will receive the honor of healthcare professional of the year for his tireless work for Wish kids battling life-threatening medical conditions and their families.
"Meredith and Dr. Bracho dedicate countless hours supporting the work of Make-A-Wish ®Tri-Counties. We are fortunate to work with these dedicated professionals and it's truly an honor to recognize them for their service," said Pattie Mullins, CEO, Make-A-Wish® Tri-Counties. Dr. Bracho has worked magic to support our program making it possible for wish kids to travel safely and experience the power of a wish."
Garofalo, a Santa Barbara resident, has worked as a meteorologist for KEYT News Channel 3 in Santa Barbara for three years.
As founding director of the program for Pediatric Hematology/Oncology at Ventura County Medical Center, Dr. Bracho was instrumental in providing a local facility for treatment of many seriously ill children, especially those with cancer. He says it is a privilege to unburden these families with quality local care. The bonus is he can also refer those children to Make-A-Wish® Tri-Counties.
"One of my most memorable moments was getting a picture of a 3-year-old wish kid giving the "thumbs up" from the cockpit of a plane, on his way to a special place," said Dr. Bracho. Several years later, MAWTC asked him to serve as Medical Advisor. "I was honored then as I am now. Make-A-Wish® Tri-Counties continues to be one of the brightest lights here in our area."
Wish Night will be held from 6-9:30 p.m. and guests will have the opportunity to help make wishes come true through Fund-A-Wish. The evening also features heartfelt wish stories, a plated dinner, a wine wall, live music and silent and live auctions. Philanthropist and reality TV show personality Andrew Firestone will serve as master of ceremonies.
Last year Make-A-Wish® Tri-Counties granted over 90 wishes for local children throughout Ventura, Santa Barbara and San Luis Obispo Counties. This year's goal is 100 wishes. For tickets and/or sponsorship information, visit http://tri-counties.wish.org/ or email pmullins@tri-counties.wish.org or call the Wish Center at 826-1178.