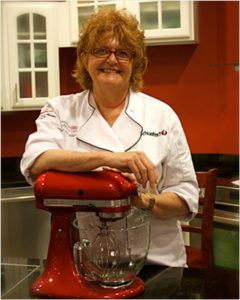 Having grown up in the restaurant business in Ventura Judy Gilliard pursued her love of the hospitality business and obtained a degree in Hotel Restaurant Management from Santa Barbara Community College, and received her teaching credentials in food and food technology from the University of California.
Judy wrote a column "Simply Entertaining" for Emeril Lagasse on emeril.com for three years. Judy has authored 10 cookbooks, had both a local and syndicated radio show and did a regular TV cooking segment for the CBS station in Lincoln, NE.  She has been teaching cooking classes for the home cook that focuses on good, healthy, and fast in the Midwest for the last several years.
Now returning to her home town of Ventura she is teaching classes at VACE (Ventura Adult and Continuing Education) and Barranca Vista Center along with a catering service.
Now you can get processed foods out of the pantry, by learning to cook with natural, simple, budget-friendly foods. The recipes and techniques are designed to help you get or keep you in good health by creating meals with the fresh foods of the seasons, including vegan and vegetarian options.
Her first class is on Tuesday, March 7th from 6-8pm.
Barranca Vista Center, 7050 Ralston St, 644-6542
$80.00 (Resident) $88.00 (Non-resident)
$28 material fee to instructor at first class
Check Judy's website to see what is on the menu for each month www.chefjudy.net