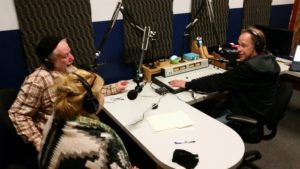 It's here at CAPS Media
by Elizabeth Rodeno
Lots of things are springing anew at CAPS Media this month! Out with the old and in with the shiny new HD cameras! At CAPS Media we're saying goodbye to the old SD cameras that have long served CAPS members in our studio and bringing in HD cameras and upgraded equipment. Although the studio will be shut down for upgrades for the month of February, we're still lending cameras and equipment. Come back in March to check out the new studio!
Also coming up in March are our regularly scheduled classes. Become a member this month, when you take the March Orientation Class, happening Thursday, March 2, 2017 at 6:00 PM. We will also be offering HD Camera Class on Thursday, March 9, 2017 at 6:00 PM and Final Cut X Edit Class on Thursday, March 16, 2017 at 6:00 PM. Once the studio is up and running we will schedule studio classes – a 2 session course on Saturdays. More information can be found at http://www.capsmedia.org/events. Registration begins March 1st.
As we do every year, we'll be covering the St. Patrick's Day parade live from Main Street on March 11 at 10am with our hosts, Tim O'Neil and Jerry Breiner. If you can't make it to the parade, tune in and enjoy the festivities from home or your mobile device!
CAPS Media has 6 video programs that are finalists in the the Alliance of Community Media West's 2017 Western Access Video Excellence (WAVE) Awards and winners will be announced in March. ACMW's Mission is to promote civic engagement through community media and CAPS Media could not be happier to have these programs nominated. We'll keep you posted on the results.
And the very most exciting news of all- Ventura's newest radio station has launched! Thanks to all the staff, in particular Evan Carpenter, with the support of the board, members and the city and local contractor,Eagle Pride Construction Inc., our long preparation and an exciting Friday installing the radio antenna, the "ON AIR" sign is lit up! Have you ever wanted to host your own radio show? Do you think that vinyl sounds better and your old collection hasn't seen enough use lately? We invite you to share your stories and voice on KPPQ-LP 104.1 FM. Or just tune in! What could be better for your commute than local radio programming, created by and for your community?
As always, you can watch channel 6 to hear what the public has to say and watch channel 15 to experience the city's vision to provide the best and clearest information for all. All programs are also available to the public via streaming service on our website.Go to www.capsmedia.org to see what our members are creating for you and sign up to be part of the story. A full year's membership is just $25. Radio memberships are now available! For more information, contact us at radio@capsmedia.org.