Suz Montgomery told the story of Rodie the Wonder Dog at the monthly "Breast Fest".
by John Hankins
A local cancer survivors' group has literally gone to the dogs – and cats – in honoring the animals who give their 'owners' emotional support during the life-threatening disease.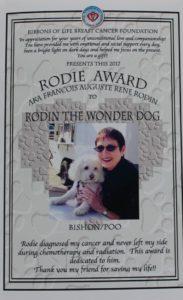 It happened during Ribbons of Life's monthly "Breast Fest" gathering at Mimi's Café in Ventura, and was inspired by a dog named Rodie, said Ribbons Founder Lisa Barreto, a three-time "survivor-thriver." Check out this advocacy and support foundation at: www.ribbonsventura.org
Rodie, a Bichon-Frise, "diagnosed my cancer and never left my side throughout every chemo and every radiation treatment," said Suz Montgomery, noting that his name came from Auguste Rodin as he liked to create "sculptures" in the back yard.
Rodie knew Suz had cancer by licking her arm where the lymph nodes were packed with cancer cells. "He showed me what love and support animals can be."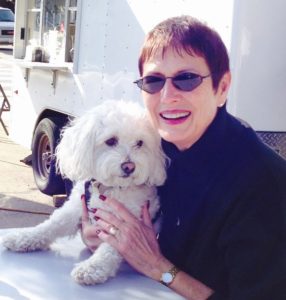 This first annual "Rodie Award" featured a dozen cancer survivors (out of the over 30 attending) who told the stories of their own animals during the Feb. 11 event. Each one received a special card with the pet's picture and the owners' comments, designed by graphic artist Karen Brown, a past president of Ribbons. They included:
~ "Rocky and Lulu (Cockapoo and Shih Tzu) work as a support team. The two would guard over Bob and me, alternating between bedrooms while I recovered from surgery and chemotherapy … they share our journey."
~ "Oz, the good dog (Yellow Lab), lived to please. He was enormous therapy as he joined Bill and my journey."
~ "Zoey (Beagle mix) is youthful and wise and has a gentleness about her that makes me calm and content. She is my constant companion, my healer, my wonder pup and my best friend."
~ "Mr. R (Chocolate Lab) is a loyal and loving companion. He is always happy to see Dave and I, even happier when we are ready for a walk."
~  Guigui (Blue Russian cat): With beauty, grace and a slight tease, a velvet coat and infinite gaze, I know your Majestic reign has only brought comfort and joy to our humble kingdom."
~ "Wubbies (Tuxedo cat) is a gentle giant and a cutie who likes to exercise her sandpaper tongue. She is there for me as I go through my journey. Thank you my special friend."
~ "Angie (Pomeranian) was Cindy and Steve's guardian angel before they met her in 1999. She gave them so much comfort … they are together in Heaven now."