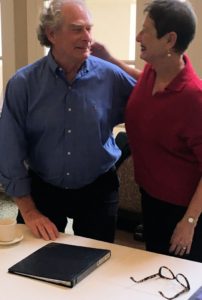 In what has become an annual event celebrating Valentine's Day, a performance of "Love Letters" comes to Ventura senior nursing facilities for the residents to enjoy, despite the inevitable tears at the end.
Performed to packed houses for the last seven years by married couple Suz Montgomery and John Hankins, this year's events were at Coastal View Healthcare Center and Aegis of Ventura. Montgomery also teaches at both facilities.
The play, by A.R. Gurney, is a favorite of famous actors and couples since it was written in 1988, partly because they don't have to memorize anything, just act as they read. The letters occur over a 50-year time span from childhood to old age.
"We love to perform this for the seniors," Montgomery said, "because a lot of them aren't able to go out and see plays, but more important, the play strikes a chord and brings out memories of a time when love and affection was often conveyed in letters."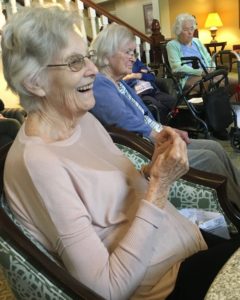 "An email or tweet just doesn't have the same impact," Hankins added, quoting his character, Andy Ladd, who wrote: "This letter … is a present of myself to you … and you can tear me up and throw me out, or keep me, and read me today, tomorrow, any time you want until you die."
The characters' letters discuss their hopes, dreams, disappointments, victories and defeats that they experience throughout their separate lives. Even when they are married to others, they stay pen pals for life.
When the reading finished at both facilities, there were tears by both men and women for its poignant and heartfelt ending, but also smiles at sharing a long life with all its wonder. It also started to rain, inspiring one attendee to quip, "you made the sky cry!"