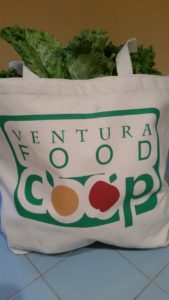 by Jill Forman
An interview with Ally Gialketsis, co-founder and Board Chair, Ventura Food Co-Op
Tell us about yourself.
I work for a non-profit called Food Forward which rescues produce that would otherwise go to waste and donating 100% to people in need. I grew up in Santa Paula but have lived in the city of Ventura for 4 1/2 years.
Whose idea was it to start the co-op?
Two of my climber friends, Erin McQuilkin, Nicole Cornell, and I were discussing the idea of having a co-op grocery store back in 2013/14.
Why?
We were unhappy with the current places to shop. We wanted bulk options, local, organic produce, and transparency.
When did you actually start to put it together?
We began watching webinars in January 2014 to learn more about what it entails to create a cooperative grocery store. After 6 months, we pulled together an advisory/steering committee and started having regular meetings. Much of the work up to now has been learning, building the internal structure of the organization, working on legal documents, and doing outreach.
What is the progress so far?
We are currently in the organizing stage. We hosted our first public meeting in March of 2015 and our first large fundraiser in April of 2016, a partnership with Slow Food Ventura County. In October of 2016, we launched our membership drive.
How many members do you have?
We currently have 49 member-owners.
Who else is on your board?
Melissa Rubin, Ron Whitehurst, Elizabeth Mitchell, and Crawford Coates
What are the next steps?  What is your vision?
Next step is to raise funds, to do feasibility and market studies to determine the best location.
We envision having a brick and mortar grocery store that is owned by the people who shop there. We also hope to provide a community space for people to gather, learn, share, and organize. Some ideas expressed by co-op supporters, members, and Ventura residents are to host gardening and cooking workshops, to have local non-profit meetings, to open the space for anyone to come and hang out, relax, eat, socialize, etc.
How do you propose to raise the funds?  Do you have a timetable?
We will raise the funds through a combination of membership dues, preferred shares, donations, grants, fundraisers, and loans.  We will open the doors when we have enough community investment. The timeline is dependent on community participation.
Why should someone join if the actual store is a long ways away?
When people become member-owners, they are getting behind the larger movement of promoting local, organic food production (& consumption) in Ventura County. By supporting a project like the Ventura Food Co-op, we are investing in our health, our environment, and our community.
How does someone join?
To learn more and become a member-owner, visit venturafoodcoop.com. With questions, email venturafoodcoop@gmail.com.