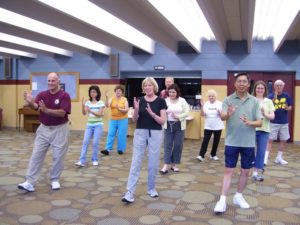 Volunteers are needed for a new senior Tai Chi program which is starting in the four west county cities served by the Oxnard RSVP. No experience is needed and volunteer instructor training will be provided in mid-February.
A federal grant received by the City of Oxnard and its RSVP program funds the free exercise classes, which are being offered in partnership with the Ventura County Area Agency on Aging.
Tai Chi: Moving for Better Balance follows curriculum developed at the Oregon Research Institute (in Oregon) where studies showed improved strength and balance, increased mobility and reduced incidence of falls among seniors who participated in the classes.
The 12-week evidence-based program consists of a core eight-form routine of Yang-style Tai Chi with built-in exercise variations. It teaches participants balance skills and good body alignment by using coordinated and flowing movements. Much as they do in RSVP's popular Bone Builders classes, it is expected participants will form friendships, providing a fun, social atmosphere around the classes.
The classes are intended for adults age 60 and older who can walk easily with or without assistive devices.
RSVP is currently recruiting volunteers to lead the classes in Oxnard, Ventura, Camarillo and Port Hueneme; bilingual volunteers are particularly needed. A two-day training with the Master Trainer is scheduled for Friday and Saturday, February 10 and 11, in Ventura. Several follow-up practices with other trained volunteers will be scheduled before volunteers lead a class. Attendance at quarterly in-services will also be required. No experience is necessary, but a six-month commitment to teach three hours per week is requested.
Volunteers team teach to allow for vacation and sick time. All RSVP volunteers must be age 55 or better. For more information on the instructor training or to register to be trained as an instructor, please call 385-8023.
Through practical lifestyle adjustments, participation in evidence-based falls prevention programs, such as Tai Chi: Moving for Better Balance, and other interventions, the number of falls among seniors can be substantially reduced.
Those interested in taking the 12-week class should call the Ventura County Area Agency on Aging's fall prevention program at 477-7347 to have their name put on the waiting list.
RSVP is a volunteer recruitment and placement program, helping people 55 and older find volunteer positions that match their interests, talent and available time.  The Oxnard RSVP has almost 600 members and is sponsored by the City of Oxnard.  To learn more about being an RSVP member or to discuss other volunteer opportunities, call 385-8023.