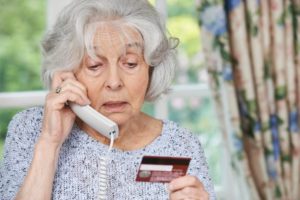 Financial scams targeting seniors have become so prevalent that they're now considered "the crime of the 21st century." Why? Because seniors are thought to have a significant amount of money sitting in their accounts.
Far too many older adults fall prey to scammers who are looking to make a quick buck. The National Council on Aging (NCOA) offers Straight Talk for Seniors® about what to look for, and how to combat fraud and abuse.
While there is not one single collection agency for fraud reports, the Federal Trade Commission's Consumer Sentinel Network (CSN) reports more than 1.5 million fraud complaints in 2014, with losses totaling more than $1.7 billion. More than 28% of the complaints were from consumers aged 60 and over. Scams and abuse range from Medicare fraud to financial abuse by a loved one. Find a list of the top 10 scams targeting seniors here.
Scams are always changing, but here are eight tested ways seniors can protect themselves:
Be aware you are at risk from strangers – and those closest to you.
Don't isolate yourself – stay involved.
Always tell solicitors: "I never buy from (or give to) anyone who calls or visits me announced. Send me something in writing."
Shred all receipts with your credit card number.
Sign up for the "Do Not Call" list and take yourself off multiple mailing lists.
Use direct deposit for benefit checks to prevent checks from being stolen from the mailbox.
Never give your credit card, banking, Social Security, Medicare, or other personal information over the phone unless you initiated the call.
Be skeptical of all unsolicited offers and thoroughly do your research.
Warning Signs for Caregivers
There are signs caregivers and loved ones should watch for that can indicate an older adult may be a victim of fraud or abuse, including:
Unusual recent changes in the person's financial accounts, including atypical withdrawals, new person(s) added, or sudden use of a senior's ATM or credit card.
The senior suddenly appears confused, unkempt, and/or afraid.
Utility, rent, mortgage, medical, or other essential bills are unpaid despite adequate income.
A caregiver will not allow others access to the senior.
There are piled up sweepstakes mailings, magazine subscriptions, or "free gifts," which means they may be on "sucker lists."
Many seniors don't report financial fraud and abuse because they are afraid or embarrassed to talk about it, but not taking action could only make repercussions worse. Immediately:
Additionally, there are several government agencies that can help.
The state Adult Protective Service (APS) program can help. Find a local office on the Eldercare Locator, or call them toll-free at 1-800-677-1116.
File a complaint online with the Federal Trade Commission Complaint Assistant at: https://www.ftccomplaintassistant.gov/
Call the Consumer Financial Protection Bureau's complaint line at: 1-855-411-CFPB (2372)
Contact your State Attorney General.
More Information
NCOA's EconomicCheckUp® website has useful tips and tools to help older adults avoid scams, manage a limited budget, save money, and more.
NCOA's Savvy Saving Seniors® education program includes a class on Steps to Avoiding Scams. Test your knowledge about scams and get more tips for recognizing scams.
NCOA's Economic Security Initiative is helping older adults find benefits and protect their finances so they can live a healthy, confident life. Find out more here.