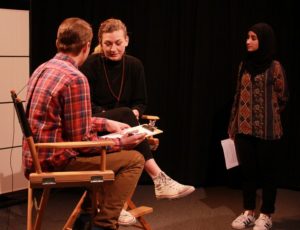 Welcome 2017
by Elizabeth Rodeno
CAPS had quite a year in 2016. The staff and volunteers worked hard and had a lot of fun creating and producing programming for the community. As always we will continue our commitment to the City of Ventura with not only coverage of meetings but video support in other areas. These including producing training videos, working together to support our businesses of the month and celebrating City events. We continue to strengthen our ties with the School district, library, college, public safety and non-profit organizations.
The first quarter of 2017 will be busy for us all. Our unique production studio will receive upgrades including cameras and switcher which will improve capabilities and production values on your next project. Check on our website for further information.
CAPS will be home to the newest addition, CAPS Radio. KPPQ – LP will be found at 104.1 FM on your radio dial come February. Spread the word and contact us at radio@capsmedia.org about upcoming meetings, training and events. We hope you choose to support our latest venture which will be so vital for the city of Ventura and beyond. CAPS Radio will continue our pursuit to make CAPS Media Center the best media center around.
CAPS continues to encourage and support everyone in the community to share their voice. The community's citizen's voices must be heard. You have a tremendous opportunity many cities do not have to share your voices and talk about issues that affect you. We are very fortunate with the opportunity to uphold the first amendment which gives everyone the right to free speech. With CAPS Media center's public access television channels 6 and 15, and soon our low power FM station, the opportunity is clear and available for a small membership fee.
Our members are sharing their voices today, whether they are covering events and interviewing people in the community, or abroad, from the houses of worship, in front of city council or from the educational institutions. We want you to be part of the discussion to support media, whether it be print, video or via the radio.  Are you involved with a non-profit organization throughout the county? Come support us and we will help you tell your story.  Go to www.CAPSMedia.org for more information
With the opportunity for citizens to share their stories in a different medium that will enhance and support our mission. In such a community oriented city, we will provide an additional resource to everyone. As with our television channels, CAPS Radio will provide top notch facilities, training and opportunities to share stories. This is also a perfect way for the youth to expand their venues and offer those who speak different languages a place on the airwaves.
Watch channel 6 to hear what the public has to say and watch channel 15 to experience the city's vision to provide the best and clearest information for all and stay tuned for CAPS Radio at 104.1 FM and streaming through our website.  Go to www.capsmedia.org for all the information.