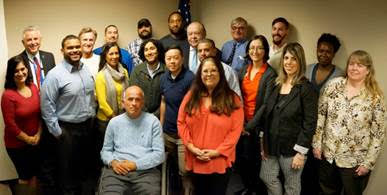 The Ventura County Community College District Board of Trustees Chair Larry Kennedy, Chancellor Bernard Luskin and Vice Chancellor of Educational Services Rick Post, all United States Navy veterans, recently hosted a luncheon at the District Administration Center to express appreciation for the Veterans Resource Centers staff at Moorpark, Oxnard and Ventura Colleges.
Board Chair Larry Kennedy explained his role as Co-Chair of the Community College League of California Veterans Caucus. Vice Chancellor Post moderated a panel discussion for student veterans to openly share their opinions and feedback on the resources available to help them succeed at their prospective colleges.  The common theme highlighted the genuine care shown by the staff at each of the VRCs and the sense of community and friendship from fellow student veterans. The total veteran's center experience serves as a pathway for healing and as a resource to assist with the transition from military to civilian life.
"The Ventura County Community College District is at the forefront in advocating for student veterans throughout the district and statewide," said Chair Kennedy.  "We are working diligently in cooperation with the CCLC to secure funding at the state level for counselling for student veterans," Kennedy added.
The meeting was historic as it marked the first time that all of the VRCs staff, along with student veterans across the Ventura County Community College District came together. VRC Coordinators Johnny Conley (acting on behalf of Moorpark College Dean Amanuel Gebru), Leo Orange (Oxnard College) and Bruce McFadden (Ventura College) expressed enthusiasm about meeting regularly to discuss best practices to advance the services at each center to better serve the needs of student veterans throughout the district.  Talk of a district-wide council focused on the needs of student veterans is also now planned. "Veterans are central to all we do and the majority of returning veterans who return to college come to a community college," said Luskin.