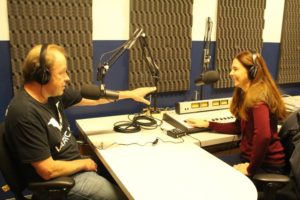 Engage and inform
by Elizabeth Rodeno
Time is flying by here at CAPS Media Center. Members are busily producing shows, some aiming for the holiday season, which is coming up quickly. As a preview of the season of giving, it is always heartwarming to hear the stories from the homeless and helpless to the sheltered and hopeful. Last week, one of Project Understandings' success stories shared his story about getting a hand up.  Martin was honored at Project Understanding's Annual dinner event. We also spent time learning about the Ventura County Bar's Legal Aid program. This time it's about lawyers coming together to support those who need to help navigate the legal system. CAPS Media works our magic to produce powerful videos sharing transformative stories. Our door is open to come produce your own or have us create one for you.
The non-profit CAPS Media Center's mission is to create an engaged and informed community through participation in electronic media.  Our mission for the soon to launch CAPS Radio falls in there as well. We are gearing up for the launch of our low power FM station, KPPQ-LP 104.1FM, the hyper local station with programs that will share interesting and uplifting stories. Our members' goal will be to engage, educate and entertain. More information will found on our website. Stand by to air.
Peoples' voices are never more important than today. Our manadate is to support the first amendment and ensure everyone can have a voice. Our voices are varied and many. Watch channel 6 to hear what the public has to say and watch channel 15 to experience the city's vision to provide the best and clearest information for all. As we now stream through our website, our reach is much greater.
Ventura County Community Councils and others have had the opportunity to visit the media center and learn how our local councils can use our facilities to broaden their reach at the local level. Schools, teachers, girl scouts, churches and youth groups come for tours and think this place is really cool.
Go to www.capsmedia.org to see what our members are creating for you and sign up to be part of the story. For only $25 a year you get it all.