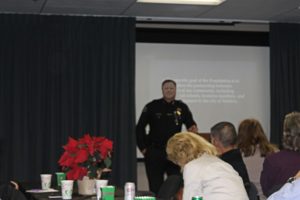 Ventura Police Chief Ken Corney spoke to members of The Ventura Police Community Foundation about the accomplishments and goals of the Foundation as well as the Department's Strategic Plan and public safety at the first annual Chief's Luncheon on November 16 held at police headquarters on Dowell Dr. Attendees had lunch provided by the Ventura Spaghetti Company and a guided tour of the Ventura Police department.
Public Safety Improvements: Initiatives that address specific public safety needs, improve police effectiveness, and officer safety through the use of specialized equipment, evolving technology and other innovations.
Community Partnerships: Projects that enhance the relationship between the community and the Ventura Police Department.
Youth Programs: Positive and proactive opportunities such as after-school and youth mentoring programs designed to reduce crime-related risk and help disadvantaged youth grow into productive citizens.
The funds raised from membership, donations and fundraising events such as the Annual PAL Golf Tournament, goes to support many essential city programs and safety initiatives. To learn more about the Foundation and membership visit www.venturapolicecommunityfoundation.org, on facebook at www.facebook.com/venturapolicefoundation or call 399-4317.