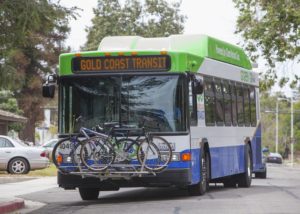 Gold Coast Transit District is participating in the countywide "Veteran's Ride free on Veteran's Day" promotion offering free bus rides to U.S. military veterans on Friday, November 11. In appreciation for the contributions of the 40,000+ men and women currently living in Ventura County who have served in our Nation's armed forces, Gold Coast Transit District is also proud to announce that all Veterans will now be eligible to ride at a reduced fare (1/2 price) all year with valid identification.
"While many of our local veterans may already qualify for a reduced fare due to age or disability, we recognize that many veterans who are not seniors or disabled still find it difficult to meet their transportation needs," said Steve Brown, Gold Coast Transit District General Manager. "It is our honor and frankly, our responsibility, to help our veterans where we can."
To qualify for the Veteran's Day free bus ride and half price fare year round, veterans may simply show veterans ID upon boarding any Gold Coast Transit District fixed-route bus. Valid ID's include those issued by the U.S. Departments of Defense or Veterans Affairs, current California Drivers License with a veteran's designation, or other official government issued veterans ID accompanied by a current photo.
The District: Gold Coast Transit District provides safe, responsive, convenient, efficient, and environmentally responsible fixed-route bus and paratransit public transportation that  serves the diverse needs of the cities of Ojai, Oxnard, Port Hueneme and Ventura, and in the unincorporated County areas between the cities.